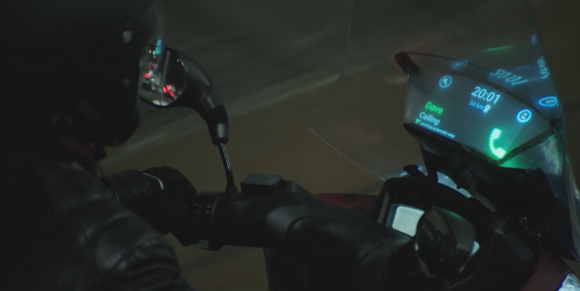 Samsung's brewed up a fresh idea of how to bring a smart dashboard system to the motorcycle with a new concept called the Samsung Smart Windshield. It's a kind of heads-up—eyes slightly down, really—display that allows motorcyclists to keep their hands on the handlebars and still interact with their phones.
The basic idea is that you connect your smartphone (via Wi-Fi and a dedicated app) to a device embedded in your bike that includes a projector. When you're on the road, the projector takes information from your smartphone and displays it in a semi-transparent view on the bottom of the bike's windshield.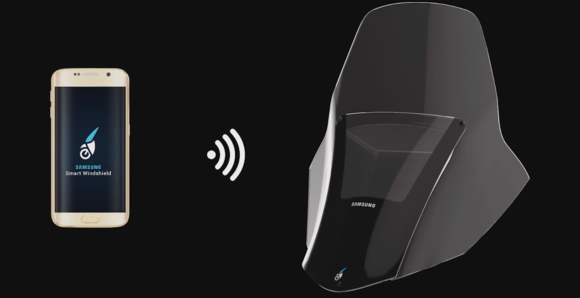 The Smart Windshield can display all kinds of content, including turn-by-turn navigation, email, messaging, and phone notifications. Other smartphone notifications may also be available. There's also an automatic SMS reply feature to keep bikers from reaching for the phone in their pocket while on the road.
Samsung is billing the Smart Windshield as a "revolution for young motorbike riders." Ignoring the use of "motorbike" instead of "motorcycle," the Smart Windshield sounds like a useful feature. So far, adding smart features to motorcycles has centered around heads-up displays built into the helmet, as Auto Blog pointed out in its initial report of Samsung's concept product.
A windshield display may make more sense, however, since it would be less distracting than something that's right in your face. That said, looking down at the windshield would still divert your attention, and on a motorcycle the negative consequences of distracted driving tend to be worse than in a car.
["source-gsmarena"]