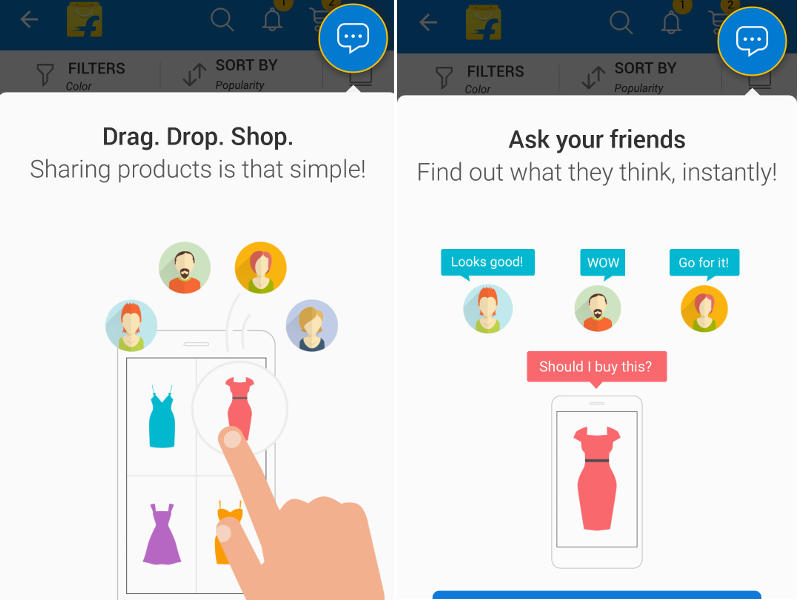 Online marketplace Flipkart on Tuesday announced the launch of Ping, a new in-app chat feature that lets users share product images and chat with each other while shopping. The feature has been rolled out to the Flipkart apps for Android and iOS, but users need an invite to access the feature.
Ping is visible as a chat icon floating on the right hand side of app. Users can share products, wishlists, and carts with their phonebook contacts, and chat with them. Users can also share their screens and browse together. The move follows the rollout of Flipkart's mobile phone number-based login system earlier this month. Users no longer need an email address to register on the Flipkart app or reset their password.
According to an emailed statement from Flipkart, the move was prompted by research that indicated that a customer's identity was strongly related to their mobile number, and that their inability to shop collaboratively was the number one barrier for online shopping.
Online shopping, on the other hand, has largely remained a solo experience, said said Flipkart's Chief Product Officer, Punit Soni, adding that Ping brings a unique blend of messaging and shopping for the first time. "Ping aims to transform online shopping by allowing users to talk to each other real time in order to make decisions and decide on what to buy," he said.
Commenting on this breakthrough innovation, Peeyush Ranjan, CTO and Head of Engineering, Flipkart, said that the feature uses highly advanced architecture to ensure that communication is efficient even on 2G networks, and will also support Android wearables in the future.
In recent Flipkart news, the company has reportedly put its app-only stance on hold, after retailers of high-value goods like furniture and home electronics seemed skeptical of the move.
["source-gadgets.ndtv"]