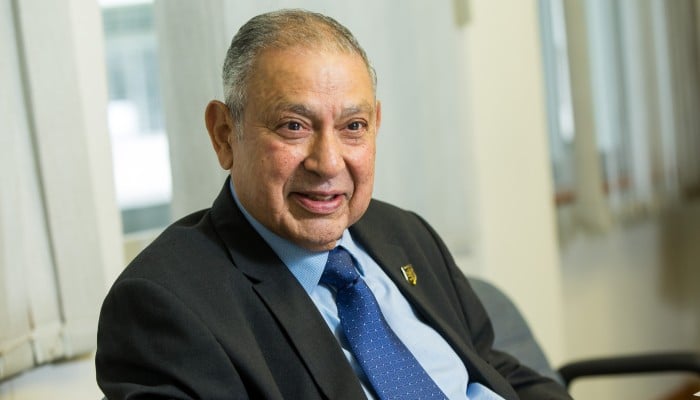 It was no exaggeration when Jal Shroff called King George V School (KGV) "his school". As a former student of KGV who had spent nine years chairing the Foundation, he ensured that his children also attended KGV and in September 2017 his granddaughter Mia will start in the same school.
"I can still remember the days when girls and boys were sitting separately during school assemblies and lessons," says the 80-year-old Shroff. "The principal and staff would use the main school entrance, while the students would use the side entrance. It was certainly a very different time."
Born in Shanghai and arriving in Hong Kong in 1949 with his father as a refugee, Jal would never forget how the school had taken him under its wing when he was just 12 years old. At the time the student body was mainly European, with only a handful of Asian and Eurasian students like himself. What particularly struck him as a child was the caring and accepting environment the school fostered.
"Many thought that ESF was an elitist system, but it couldn't be further from the truth," Jal says. "As long as you spoke good English, you have a chance for admission into the schools, regardless of your social background."
He still has many fond memories of staff members. "The teachers were incredible. They not only gave us academic knowledge, they taught us how to mix with people, how to communicate well and express ourselves. They also encouraged us to find out what we were passionate about in our lives."
CHINA AT A GLANCE
Get updates direct to your inbox
Bhy registering you agree to our T&Cs & Privacy Policy
And, Jal still remembers the good times shared with his former classmates, too. "There was also a closely-knit community among the pupils, who were and still are from all over the world," he says. "We had always been aware and appreciative of different cultures and the events happening in different countries. It was really quite something, especially as it took place long before the age of internet and globalisation."
His deep love for KGV led him to commit himself to serving ESF as Chairman for almost a decade from 1995 to 2004, during which he helped facilitate the setting up of various new kindergartens and oversaw the completion of the Jockey Club Sarah Roe School campus, which was the first English school for children with special educational needs in Hong Kong.
A pragmatic man who is not afraid to get things done, Jal also tried to push through controversial changes when it became clear that ESF would eventually have to continue without government subsidy.  He proposed the ESF Board to hire a businessman as its chief executive and for there to be two separate committees, one formed among business executives and the other by principals and teachers to run the foundation. After much heated debate, he and other Board members resigned in order to make way for new management.
Jal still maintains close ties with ESF, especially KGV, after his resignation. "My father almost lost everything when he fled Shanghai to come to Hong Kong with me, but KGV helped us get through a difficult period," he says. "The education and international exposure have helped me throughout my life.