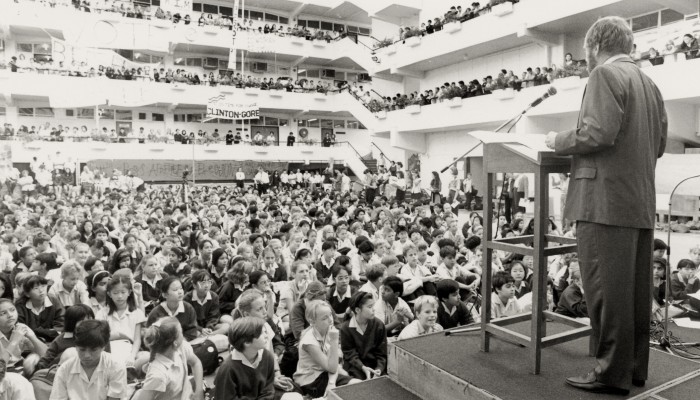 Having been brought up in the East End of London and taught in a working class area of Yorkshire for three years before moving to Hong Kong, it took Chris Forse a year working as an ESF teacher to adjust and "realise he had arrived in teacher heaven".
The year was 1974, and at a time when Island School was growing rapidly, consequently, Chris's ability to teach two subjects was viewed as a useful advantage. "I was interviewed by Principal Ronald Rivers-Moore for the position of assistant teacher in history and economics, after responding to an advertisement in the Times Educational Supplement," he recalls.
Chris was immediately taken aback by the students' enthusiasm to learn. "I really do not believe I could have found teaching as fulfilling anywhere else," he says. "I just loved the kids; they came from all over the world, though the majority were British expats at the time."
Chris initially took it upon himself to become more involved with the school's sports teams, but his involvement in extracurricular activities didn't stop there. In response to a comment made by then-principal Jonty Driver that the school did not engender enough intellectual curiosity, his involvement shifted to debating and other student enrichment activities.
The trend continued under Colin Niven, who Chris remembers always encouraged his staff to commit fully to the life of the school. Then came his appointment by Principal David James to the role of deputy principal, which brought with it a new set of challenges and fulfilments. It was during this period that Chris recalls Island School morphed from an expatriate school into an increasingly local and ethnically Chinese school. With "bright, inquisitive students, supportive parents and a dynamic teaching staff," Chris says in terms of teaching, this was the pinnacle.
Throughout his long ESF tenure that lasted until 2007, Chris says there was a steady pipeline of wide-ranging developments introduced. Mandarin and Japanese language courses were offered, and resources increased regarding the teaching of English as a second language. Changes to the curriculum helped the ESF reposition itself as an integral part of Hong Kong's school system, and one that links Hong Kong to the wider international community.
Economies of scale emerged in recruitment and funding, and career progression for staff was enhanced. The setting up of the Jockey Club Sarah Roe School designed for special needs students meant that the ESF mission became more inclusive. Before his retirement, in his role of head of student services, Chris was responsible for making sure there were sufficient school places to meet the localised demand.
Reflecting on more than three decades with ESF, Chris says he is proud of the students' academic achievements, especially the exam and university entrance successes, which stand up to the best of international comparisons. But equally rewarding are the achievements students who were less gifted academically but found success in other ways through outside activities.
"The ESF offers an Aladdin's Cave of riches for students to experience and develop a wide range of skills and enjoyment," notes Chris, who rates Island School's participation as part of the Hong Kong team in the World Schools Debating Championship and, particularly, the defeat of the US team in Pittsburgh in 2000, as a memorable highlight.
In 2004, when ESF's purpose and function was put under the spotlight by government and public, Chris was seconded as acting assistant ESF chief executive, a position he used to defend the Foundation. "That was a personally fulfilling time period," he says. "I managed to combine my duties as assistant ESF chief executive while still looking after the needs of students and parents. Not only did I have the privilege to teach in a wonderful school, I got to enjoy a career I could never have dreamed of back in 1974."
"Had it not been for the opportunities provided by ESF, I would not have had chance to explore fields that were far beyond my imagination and of serving the wider community and, I hope, in offering leadership and commitment to shared values."
 ["Source-scmp"]