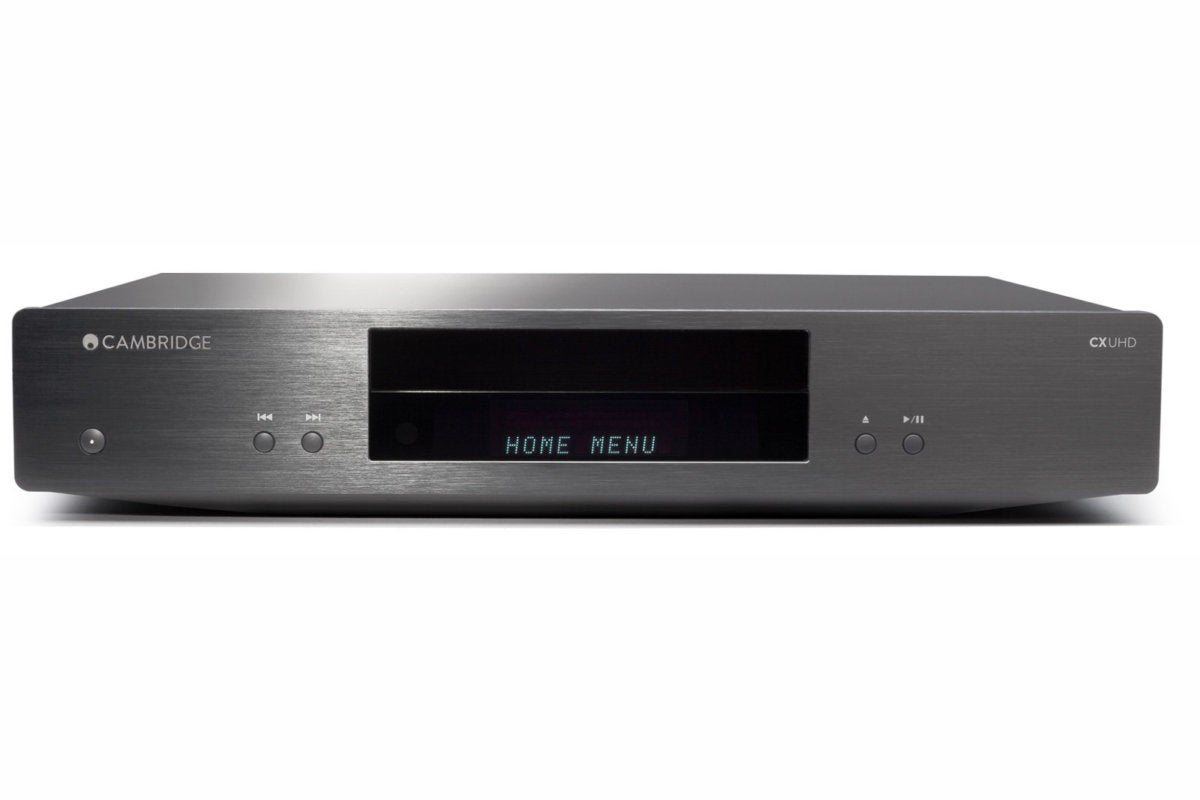 When it comes to looks, opening discs quickly, and quality of playback you can't do any better than Cambridge Audio's $700 CXUHD 4K Ultra HD Blu-ray player. At least for digital audio. Analog audio output is missing in action, so melding the CXUHD with older or retro sound systems will require a converter.
The CXUHD is an all-metal (chassis and cover), mid-height unit (about one and a half rack spaces), with a brushed-aluminum faceplate and minimal front panel controls. The tray and LCD readout sit dead center, surrounded at well-spaced intervals by the skip forward, skip backward, eject, and pause/stop buttons. The overall appearance marries perfectly with the company's other A/V offerings, and veritably shouts British upper crust.
The back of the CXUHD, where all the cabling action occurs, features one HDMI 2.0 output, one HDMI 1.4 output with ARC (for pairing with older A/V receivers), and an HDMI input for passing through signals from outboard equipment. There's one optical and one coaxial digital audio outputs for connecting to an outboard DAC or an older A/V receiver that doesn't support HDMI, and there are two USB 3.0 ports for playback from external hard drives or memory sticks. That latter proved problematic as you'll see later.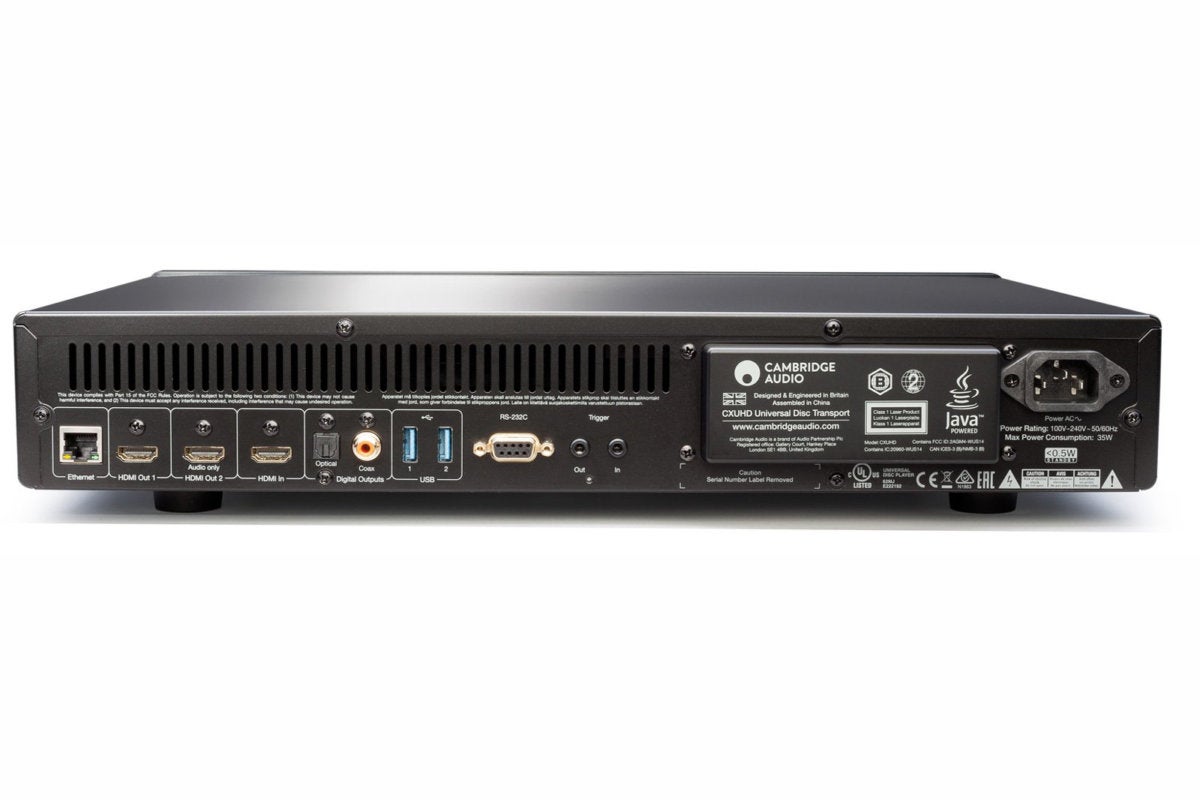 For system integration and control there's a RS-232C and 3.5-mm in/out trigger jacks, which should cover just about any modern set up. There's no RCA output, not even a headphone jack, though that's become a rarity these days. If you have legacy equipment sporting only analog inputs, you'll need to look at something like Oppo's UDP-203, or a converter.
If a car manufacturer makes the feel of a door too light, and it doesn't close with a satisfying thunk–dealers have a hard time selling the car. It's the same with disc players–if the disc tray has a lot of flex or doesn't feel secure, you sure as heck won't pay $700. That's a long-winded intro for a simple piece of info: the CXUHD's tray feels solid and smooth, though you should of course make it a habit to use the inject/eject button to keep it that way.
The Cambridge Audio CXUHD's remote control and UI
The CXUHD's on-screen interface is reminiscent of the Oppo's, both in appearance and the way it's navigated. That's not shocking given that both players are likely relying on Linux for their operating system. Said GUI is a simple affair that automatically detects discs and starts playback, and provides access to files and settings via a series of icons at the bottom of the home screen. Standard stuff, but easy to learn and navigate.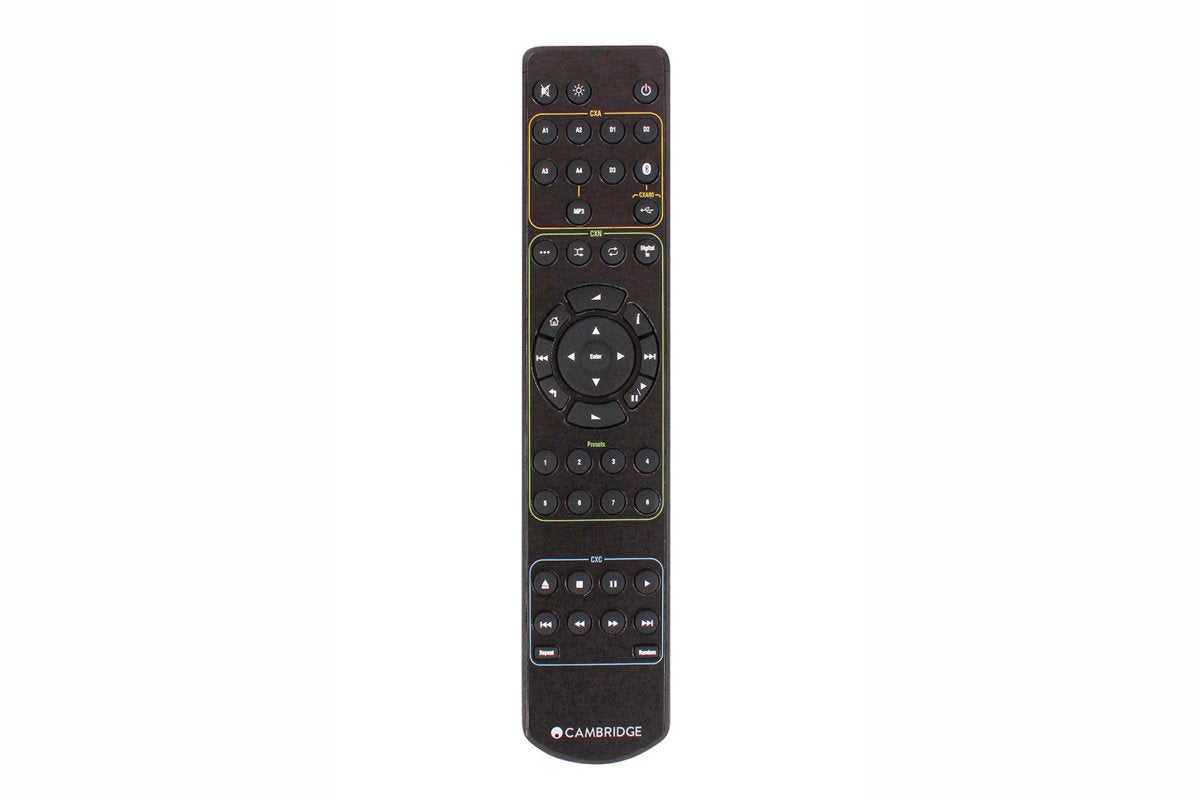 The CXUHD's remote is on the large side, though slimmer than Oppo's. The rocker button and transport control ring are densely populated, but are easy enough with only two or three sessions to acclimate. Once you do, every transport function remains under your thumb without the need to readjust your grip.
If there's any gripe about the UI, it's that the overall look and feel of the remote and interface seem more in line with a $200 player, not one that costs $700. To be fair, rival Oppo suffers from the same "issue." I refer both companies to Samsung.
The CXUHD's picture and sound
The CXUHD loaded discs very quickly; usually it being mere moments before the contents of the disc popped up. If you're accustomed to the tedious spin-ups and enumeration that is the hallmark of optical on PCs, prepare to be pleasantly surprised.
Unless some sort of digital-to-analog, resolution, or frame-rate conversion is in play, all a disc/file player really needs to do is accurately translate the information it reads from disc and pass it down the digital pipeline. The material was already created/recorded and processed before it ever hits the disc or file. Because of this, it's difficult to spot differences between players when feeding a full 2160p signal to a full 2160p display unless the player screws up majorly. The CXUHD didn't. It played Ultra HD Blu-ray and Blu-ray titles as well as any player we've tested.