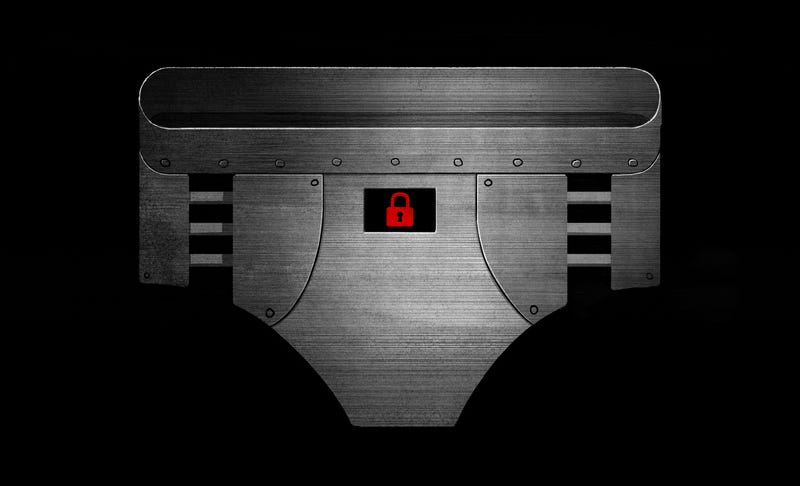 Illustration: Angelica Alzona/Gizmodo
It's like clockwork: every month or so, you'll be scrolling through your Facebook feed and stumble across a video about a new ring or underwear, color-changing straws or color-changing nail polish, or "smart stickers" that claim to help prevent sexual assault. There's the inevitable swarm of uncritical media coverage that garners hundreds of thousands of views in a few days. But after a fleeting moment in the news cycle, the stories—and ostensibly, the products themselves—disappear.
This is because most of these products are ultimately bullshit. We looked at several previously hyped gadgets that have never made it to market, many of which are based on shoddy science, nonexistent technology and misleading claims. Most egregiously, while advertising the sensation of safety, they seem reliant on the idea that it's the potential victim's responsibility to prevent being sexually assaulted with their magic cups and "anti-rape wear."
It's unclear which anti-sexual assault product opened the floodgates for the rest of them; the recent canon ranges in levels of outright ridiculousness. In 2013, a New York-based company called Ruth and Yuval posted a callout on Indiegogo for "anti-rape" underwear, AR Wear. The product quickly reached 110 percent of its $50,000 goal on Indiegogo and was even lauded by The Date Report as a way to "look cute" while protecting yourself from a rapist.
The company marketed itself as a "clothing line offering wearable protection for when things go wrong," at which point by pulling on a string, the wearer tightened the "cut-resistant" waist strap locking them in with tightened thigh openings and scooping "skeletal structure" cage around their genitals. The wearer would need to remember one of the 132 "clock-hand positions" that open the combination lock, otherwise it appears that they would need a wire cutter and some professional help to remove it.
Years later, AR Wear still has not released a product. After a staggered string of Indiegogo updates citing "obstacles" in production, the last update was postedon March 22nd, 2016. Their social media presence went silent. AR Wear, which doesn't list contact information on their campaign page, has not responded to Gizmodo's Facebook messages requesting a comment.
Color-changing trinkets
One of the most frustrating trends in anti-sexual assault gadgetry is the abundance of imagined products that claim to change color if they're exposed to various date rape drugs.

In 2013, one such product called DrinkSavvy—straws and cups that changes color when exposed to date rape drugs including GHB, ketamine, and Rohypnol—received high praise from several media outlets (including, unfortunately, our own) after raising $52,000 on Indiegogo. DrinkSavvy claimed you'd "never again wonder if your drink is safe" with "100% effortless and continuous monitoring of your drink throughout the night." Almost five years later, the product is still not on the market.
Drink Savvy's CEO, Brendan Walker, told Gizmodo that he "anticipate[s] releasing the product sometime in 2018," attributing the delay to "the unpredictable complexities of developing unprecedented technology."
In the case of Undercover Colors—which is basically DrinkSavvy with color-changing nail polish instead of drink ware—the concept was first announced in 2014, but the company hasn't yet released a product. It hasn't tweeted from its official account or been in the news since November 2016. Undercover Colors raised $3 million in investor money last year. The company declined an interview at this time.
Suzanne Bell, a professor in the C. Eugene Bennett Department of Chemistry at West Virginia University, specializes in forensic chemistry and designer drugs; she told Gizmodo she's not surprised these color-changing gadgets haven't gotten made.
"When a drug is placed in a drink such as beer, wine, or a cocktail, there are many, many compounds present—collectively called the 'matrix,'" Bell explained. "Many of these can interfere with detecting a drug by cross-reactions or many other types of interferences." Finding a single compound in a clean matrix is pretty simple, she noted, but doing the same in a complex matrix—like a mixed drink—is much more difficult. In a dark, crowded space like a club, accurately administrating the test and observing the color-change results seems highly unlikely.
"I would be surprised if these devices ever make the market," Bell said. "Designing a device that can detect several types of predator drugs (sexual assault drugs) in a complex matrix at reasonable detection limits presents a daunting engineering challenge."
Practical flaws remain, even if anti-rape products do make it to the market, as in the rare case of the DrinkSafe color-changing drug testing coasters for just two substances, gamma-Hydroxybutyric acid (GHB) and ketamine. As expected, once materialized, the product did not test well outside of a lab. One study found that "only 7 of the 11 spiked drinks tested gave an obvious positive result." Another study pointed to false positives and the confusingly long period of detection, concluding that the "supplementary role" of the strips to "enhance personal safety is questionable." Both emphasized that field testing conditions—poor lighting, drink composition, substance concentration, misinterpretation of results—dramatically decreased the accuracy of the strips in the environment that they are allegedly intended for.
Lance Norris, president of DrinkSafe Technologies, said the product has improved since he took ownership of it five years ago, but still acknowledged DrinkSafe's caveats. There are several drinks that the product simply cannot test.
"We do know that we have false positives," he said. "I'd much rather have a false positive than a false negative. And there's certain items that this product will not test or screen for. It will not screen for grapefruit juice, milk products, products such as Kahlúa or Bailey's Irish cream, it won't do a margarita, and it won't [test for GHB] in basic tap water."
Good intentions
Many of these products have good intentions. After all, according to the National Sexual Violence Resource Center, one in every five women and one in 71 men will be raped. Rape is overwhelmingly underreported, and even when a victim does choose to report, justice is almost never served: According to RAINN, out of every 1,000 rapes, 994 perpetrators will walk scot-free.
But it's not just that products like DrinkSavvy or the litany of others like it are simply lofty ideas that are difficult to execute. These products also willfully ignore—or worse, play into—the widely debunked "stranger danger" narrative surrounding sexual assault, especially when research suggests three of every four rapes are committed by someone the victim knows.
Earlier this summer, MIT researcher Manisha Mohan garnered significant media attention for a sticker she designed called Intrepid. The sticker uses microprocessors to memorize how a person normally takes off their clothes—like their bra, for example. If it "notices" anything unusual, it sends a message to the user's phone via Bluetooth. The user must respond to a message—"do you consent?"—within 30 seconds. If the person does not respond within that time frame, Intrepid triggers an alarm and sends a message to a group of the user's contacts, signaling they might be in danger. The user then has 20 seconds to clarify if the alert was a mistake.
Intrepid was created as part of Mohan's thesis and not with the intent of going to market. But after buzz generated in the press, Mohan says she's now "open to collaboration" with companies that might want to bring it to market.
To Intrepid's credit, Mohan said the device utilized online surveys to consult with people of various ages and genders—including survivors of sexual assault—in order to gauge whether or not they'd feel comfortable using the product. Still, Mohan said she acknowledges the criticism, though her acknowledgement is itself problematic.
"Yes, it certainly sets an onus onto the woman or person who would be sexually abused," she told Gizmodo. "But I think in the form of, [if] I had cancer and wanted medication, it would be great if I did not have cancer, but since it is in this society, I really need to take medication for that issue," she said, comparing the possibility of being the victim of a targeted sexual assault to having an illness.
Another protective wearable whose sophisticated marketing garnered significant media attention is a sleek device called Nimb, which bills itself as a "smart ring with a panic button." The basic premise behind the ring—which starts at $249—is that the wearer presses it if they're in danger, sending a signal to the Nimb smartphone app via bluetooth. This hypothetically sends your location to a group of trusted contacts, who presumably call 911.
The "uses" section on Nimb's website says it can be used for "personal safety," which it defines as "suspicious contacts," "criminal assaults," and "traveling alone." The very intense Kickstarter video mentions using the ring "in emergencies" including sexual assault, and seems to elude to the threat of sexual assault repeatedly. It also makes a big emphasis on how stylish the ring looks.
Nimb production has been pushed back several times. Despite raising $237,775 on Kickstarter last year, the product has not shipped in the states or internationally.
"Our first deadline was March this year, so it's a pretty big delay," Nimb co-founder and communications director Kathy Roma told Gizmodo. "We underestimated the production cycles in China." Apparently, the team had to cancel production several times and redesign the device after team members were "not happy" with the quality of the product. Nimb is now expected to ship in November.
So, what are you actually getting with this space-age feel-safe accessory? In an emergency, with a press of a button, free users can alert their trusted contacts or members of the "Nimb Community"—nearby Nimb-wearers with presumed vigilante tendencies. "We call it crowd-sourced security," founder and CMO Nick Marshanksy says in the campaign video. "We believe that society is ready to protect itself."
For a fee of $95.94 every six months or $155.88 annually, users can access "24/7 monitoring stations that receive all active alerts (through our software)," Roma told Gizmodo. "Trained personnel make an actual call to 911 closest to the sender. They follow the alert card and participate in coordinating responders." App robocalls to 911 would hypothetically put Nimb in jeopardy of facing hefty fines, but these stations act as the middlemen between the Nimb user's signal and 911. However, assuming a monitoring station, your trusted contact or a helpful Nimb-wearing stranger will only know your location to give to emergency services, not having details about the sort of emergency you're experiencing could substantially increase 911 response time. It's unclear just how useful this would be.
The message to survivors
According to Leigh Honeywell, a tech fellow at the ACLU with a decade of experience founding and advising startups, products like DrinkSavvy don't get delayed merely due to technical difficulties.
"It's a good example of 'vaporware,' a tech idea that gets announced as if it's going to launch 'real soon now' but it's actually barely an idea," she told Gizmodo. "The 'gadgets' are media stunts with no real business plan behind them, or someone's senior design project, or honestly just bad ideas that get called out as such and then don't move forward… It makes me frustrated that their efforts distract from efforts that get to the root causes of sexual violence, are actually effective, and already exist."
But there's more where they came from. At this point, social media is saturated with concept for such trinkets. The names blend together after a while, because the products present the same set of problematic misinformation. To sexual assault survivors, they could enforce the emotionally deleterious idea that the responsibility is always on them to prevent attack.
"The underlying premise of these products is not only ineffective, but problematic: when we think of sexual assault as a one-dimensional issue, it doesn't help us to really understand the complexity of sexual violence," Laura Palumbo, Communications Director for the National Sexual Violence Resource Center, told Gizmodo. "People who perpetrate sexual violence are the only ones responsible for rape, and we as a society are all responsible changing our culture, which normalizes and tolerates sexual assault."
Ultimately, no one but sexual assault survivors can choose what helps to make them feel safe. If carrying mace or using a safety app feels like an integral part of their armor, so be it. But the tech industry should be wary of presenting sexual assault as a software glitch that can be "fixed" with crowdfunded vaporware that is unlikely to make it to the market.
"There isn't just one scenario where sexual assault happens," Roslyn Talusan, a sexual assault survivor and advocate, told Gizmodo. "Most of the time, there is no dark alley, there is no stranger, there is no weapon, there is no drug. If we truly want to prevent sexual assault, we need to be teaching people about what proper consent looks like."
["Source-gizmodo"]