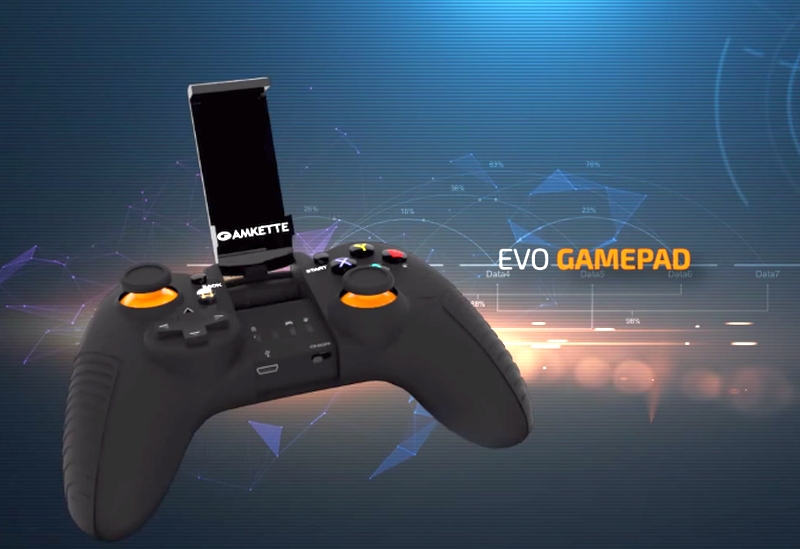 Delhi-based Amkette on Thursday released a Bluetooth gamepad for Android, called the Evo Gamepad Pro. The Gamepad Pro is design to work with most Android games, but Amkette has also created the Evo Gamepad Games app for Google Play, which will help you to find the games that are compatible with the controller.
The Amkette Evo Gamepad Pro is available now, exclusively on Flipkart, for Rs. 2,799, and is designed like a home console controller – such as the controller for an Xbox One or Playstation 4 – but with a flip-out handle where you can clip your smartphone to the gamepad.
The gamepad has two analogue sticks, two triggers, a four-way direction pad, bumpers, and four face buttons, along with home and back buttons for Android, and also comes with a plastic stand, which you can use for gaming on an Android tablet. The Evo Gamepad Pro can also be connected to an Android set-top box (such as the Amkette Evo TV) for gaming on the big screen.
As we note in our Amkette Evo Gamepad Pro review, the controller is well designed, comfortable to hold, with buttons and sticks that feel sturdy and responsive. From a physical design perspective, the only issue we had was that the clip for the phone can sometimes rock a little.
Amkette claims the battery in the Evo Gamepad Pro lasts for 12-hours; we've seen it last for eight hours on a single charge, and it isn't completely drained yet, so the battery life is pretty good. The only issue we faced with the gamepad was some issues with properly connecting to some phones – the controller would pair, but not all inputs would be recognised, in some cases
["source-gadgets.ndtv"]