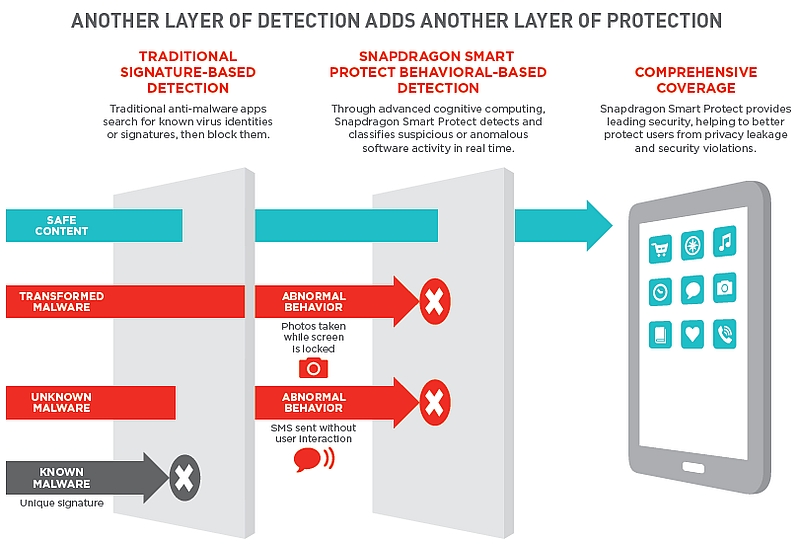 Qualcomm, the company responsible for creating the widely used Snapdragon range of mobile processors, on Monday gave details on its Qualcomm Smart Protect feature. The feature, which will arrive in conjunction with the Snapdragon 820 SoC next year, is an anti-malware tool that will study the app behaviour in real-time and will take action on any suspicious activity.
The Qualcomm Smart Protect hardware-based tool, as per the company, is different from conventional anti-virus apps that scan and search known threats compiled by the manufacturer. Any new malware, which is not in the antivirus app's known list of threats, can bypass the security check process and enter the device. The Smart Protect on the other hand detects zero-day malware threats in real time and alerts the user to take necessary action.
(Also see:Samsung Aggressively Testing Qualcomm's Snapdragon 820 SoC: Report)
The technology behind the Qualcomm Smart Protect is the company's Zeroth machine learning platform. "Zeroth is highly-optimized heterogeneous hardware and software architecture that is uniquely designed to deliver high performance on-device cognitive capabilities by taking full advantage of Snapdragon processors' heterogeneous compute capabilities, as well as algorithmic innovations in machine learning and low power sensor processing," explains the firm.
The firm is already working with some OEMs and ISVs (Independent Software Vendors) including Avast, AVG, and Lookout, using an API to pair its Smart Protect feature in their commercially available apps. Furthermore, since Qualcomm Smart Protect is a hardware-based solution, it will not need any Internet connection and would work offline.
(Also see:Qualcomm Details Snapdragon 820's Hexagon 680 DSP Coprocessor)
"Like all Qualcomm Haven Security Solutions, Snapdragon Smart Protect is grounded in Qualcomm SecureMSM technology, keeping the core of Snapdragon Smart Protect more secure even if the operating system is compromised," the company said in the blog post.
["source-gadgets.ndtv"]