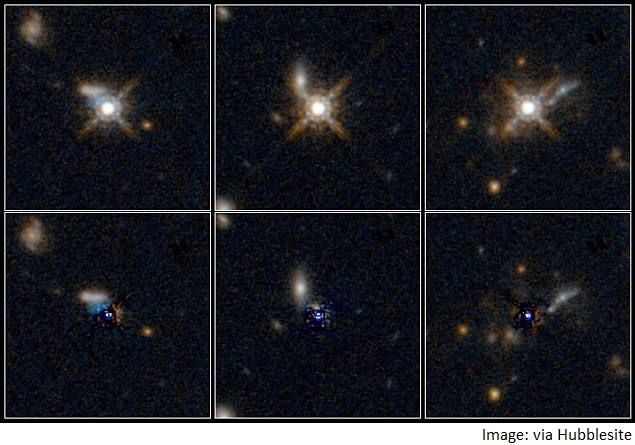 By using Hubble Space Telescopes infrared vision, astronomers have uncovered the mysterious early formative years of quasars, the brightest objects in the universe.Hubble's sharp images unveil the chaotic collisions of galaxies that fuel quasars by feeding supermassive central black holes with gas.
"The Hubble observations are definitely telling us that the peak of quasar activity in the early universe is driven by galaxies colliding and then merging together," said Eilat Glikman of the Middlebury College in Vermont, US.
"We are seeing the quasars in their teenage years, when they are growing quickly and all messed up," Glikman noted.
Discovered in the 1960s, a quasar, contraction of "quasi-stellar object," pours out the light of as much as one trillion stars from a region of space smaller than our solar system.
The source of the light is a gusher of energy coming from supermassive black holes inside the cores of very distant galaxies.
"The new images capture the transitional phase in the merger-driven black hole scenario," Glikman noted.
"We've been trying to understand why galaxies start feeding their central black holes, and galaxy collisions are one leading hypothesis. These observations show that the brightest quasars in the universe really do live in merging galaxies," said co-investigator Kevin Schawinski of the Swiss Federal Institute of Technology Zurich.
The overwhelming glow of the quasar drowns out the light of the accompanying galaxy, making the signs of mergers difficult to see.
Glikman used Hubble's sensitivity at near-infrared wavelengths of light to see the host galaxies by aiming at quasars that are heavily shrouded in dust.
The dust dims the quasar's visible light so that the underlying galaxy can be seen.
As galaxies merge, gravitational forces cause the gas in the disks of the colliding galaxies to fall directly toward the supermassive black hole.
["source-gadgets.ndtv.com"]