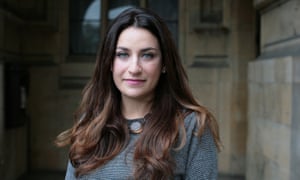 Luciana Berger: 'If you don't support people with mental illnesses they are more likely to develop a physical illness too.' Photograph: Martin Godwin for the Guardian
Mary O'Hara
Mary O'Hara
Wednesday 4 November 2015 08.00 GMT Last modified on Thursday 5 November 2015 13.52 GMT
Share on Pinterest Share on LinkedIn Share on Google+
Shares
6,746
Comments
36
Save for later
When Jeremy Corbyn announced that for the first time ever in Britain there would be a shadow ministerial post dedicated to mental health it was widely welcomed by many campaigners and health professionals as a significant gesture. So too was his choice of the MP for Liverpool Wavertree, 34-year-old Luciana Berger, as the person for the job. Since accepting the post in September, she has gone on the offensive, lambasting ministers for overseeing what she says is a rapidly escalating crisis in mental health services.
"It feels like a perfect storm at the moment. There are so many issues where we were supposed to go forwards but actually went backwards. The waiting times to access help early on are too long around the country – if you get a referral at all," says Berger.
Community mental health services 'getting worse' in some areas of England
Read more
The term crisis has been used so frequently about mental health services of late that it would be easy to brush off her use of it as a headline-grabbing exercise. However there's no shortage of service users who would attest that, in light of ongoing cuts, beds shortages and evidence that welfare reforms are triggering or exacerbating people's mental health problems on an unprecedented scale, this time it's different.
A very significant development is the programme of welfare reforms introduced by Iain Duncan Smith, the secretary of state for work and pensions, says Berger. A recent report from the charity, Mind, found that the Work Programme and the rising threat of sanctions was making people's mental distress much worse.
"The research shows that the processes the [Department for Work and Pensions ] has brought in are having a detrimental and negative impact on people's mental health," she says.
Berger brings up one constituent, Thomas O'Donnell, whose case she raised in parliament last year. Having waited eight months for his Personal Independence Payment to be processed, by the time O'Donnell reached out in desperation to Berger he was suicidal, she recalls. It is precisely this kind of interaction with voters, coupled with hard facts about pressures across a range of mental health services that are motivating her to take the government to task.
If it is mooted that there's a limit to what a shadow minister can achieve, she counters that she has been grafting to lay bare where the coalition and current government have got it wrong.
Tory rhetoric on spending and quality of services "does not match the reality" on the ground, says Berger. "They haven't delivered on the promises they've made," she says, referring to overtures about parity of esteem, where commitments have been made to guarantee that mental health would have equal status with physical health in terms of service delivery. More than 200-high profile people, including Danny Boyle and Bob Geldof, signed an open letter earlier this week calling for more investment in mental health services to secure equality with physcial health treatment ahead of the government's spending review.
Public figures sign letter seeking equality for mental health
Read more
Pledges that clinical commissioning groups (CCGs) should be increasing spending on mental health have proved radically different in practice according to Berger. "There's no transparency. I had to FOI every single CCG in the country to expose the fact that actually around 30% were not increasing the amount they were spending on mental health in this financial year.
When I endeavoured to hold the minister and the government to account over it I didn't get a very good answer," she adds.
Perhaps influenced by her prior post as shadow minister for public health under Ed Miliband's leadership of the Labour party, Berger talks a lot about prevention. It's a false economy to introduce cuts to early intervention services because it stores up long-term problems, she points out.
Advertisement
"Too many people are not getting help early enough. That would be my big headline as to why we are seeing such a crisis. If you don't support people with mental illnesses they are more likely to develop a physical illness too and that is challenging."
The result is a system artificially skewed toward crisis and emergencies, Berger claims. When reports emerge of more people turning up to A&E in mental distress and shortages of beds on acute wards meaning people travelling hundreds of miles to access a bed, this, she says, is partially a symptom of a wider problem of other services being slashed. "We have a crisis because we have a system that's only focused on crisis," Berger stresses.
She is especially scathing of the government's record on young people. If mental health generally has been traditionally treated as second class to physical health then child and adolescent mental health services (Camhs) is "a Cinderella service within a Cinderella service," says Berger.
With schools under increasing pressure from children presenting with mental health difficulties and with waiting times for services remaining stubbornly long, Berger says the government is repeatedly letting young people down.
"Time and time again young people are getting services too late. And this is an area we should be prioritising because we know that one in two adults with a mental health condition will have developed it as a young person. We've seen promises made but even [with] the promise this year of an extra £250m for child and adolescent mental services they're going to underspend by £107m," she adds.
In her new role, Berger – who has held a variety of shadow posts since she entered parliament in 2010 – says that she will call the government out not just on cuts to mental health, but where budgets shrinking in other areas, such as social care, are having an impact.
Other issues she will focus on when challenging the government and developing policy for the Labour party include: specific illnesses, such as eating disorders and obssessive compulsive disorder, which, she says, need better resources; the negative experiences of people from ethnic minorities, who are more likely to be sectioned than the rest of the population; and what she describes as the "very worrying" rising suicide rate among men, which she thinks should be an urgent priority. "I'm also very interested in perinatal mental health," she adds. "We've seen mums with the their babies having to travel hundreds of miles to access services."
Doctors' chief warns of an 'NHS collapse this winter'
Read more
So what about Labour's record when in office? Berger won her seat when the Tory Lib-Dem coalition took power. She pauses for a moment before saying that a Labour government should have "celebrated more" the progress that was made, for example in introducing new services, including talking therapies, and the increased investment.
And in terms of what they could have done better? "All governments could do more on mental health," she replies.
As shadow mental health minister, a job she says was a surprise but one she was happy to getBerger intends to take the battle directly to government. One looming concern is what will happen if the enormous strain on the health service predicted for the winter comes to pass.
"I've already been asking lots of questions across various departments and I've been working to see that mental health is raised in both oral and written question sessions in parliament," she says. "I will be doing my utmost to hold the government to account."
["source-theguardian"]