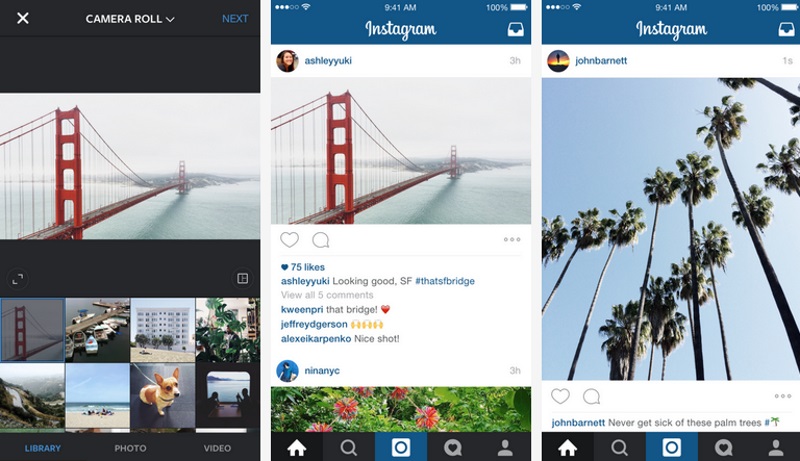 Instagram has added new layout options in addition to its signature square for pictures and videos in a bid to attract more advertisers and to stop users defecting to more flexible services such as Snapchat.
The move is the first major alteration to the photo-sharing, social media service since Facebook bought it for $1 billion (roughly Rs. 6,610 crores) in 2012, and addresses the wishes of many of its 300 million users, who have been constrained by the square format.
"It boils down to giving advertisers and users more options," said Debra Aho Williamson, a social media marketing and advertising analyst. "You want people to be able to see more of your ad. It's something advertisers are definitely going to be interested in."
One in five photos and videos posted on the service do not fit the square format, Instagram said in a blog post.
"Friends get cut out of group shots, the subject of your video feels cramped and you can't capture the Golden Gate Bridge from end to end," it said.
From Thursday, Instagram's web-based service and its mobile apps running on Google Inc's Android system and Apple Inc's iOS will allow portrait and landscape formats, giving both users and paying advertisers more options.
The move should help Instagram in its battle with newer rivals such as Snapchat for users in the fast-moving messaging and media-sharing market.
At the same time, it should attract more advertising revenue for Instagram, which said in June it would open its platform to all advertisers by the end of the year, rather than just to select brands.
Instagram is expected to generate nearly $600 million (roughly Rs. 3,966 crores) in advertising revenue by the end of this year and $2.8 billion (roughly Rs. 18,508 crores) in 2017, according to projections from research firm eMarketer.
By comparison Facebook, the world's most popular online social network, generated more than $12 billion (roughly Rs. 79,321 crores) in revenue in 2014. The growing service hit one billion users in a single day for the first time on Monday.
To promote the new formats on Thursday, Walt Disney Co released exclusive footage of its upcoming film, "Star Wars, The Force Awakens," using the new landscape option.
["source-gadgets.ndtv"]