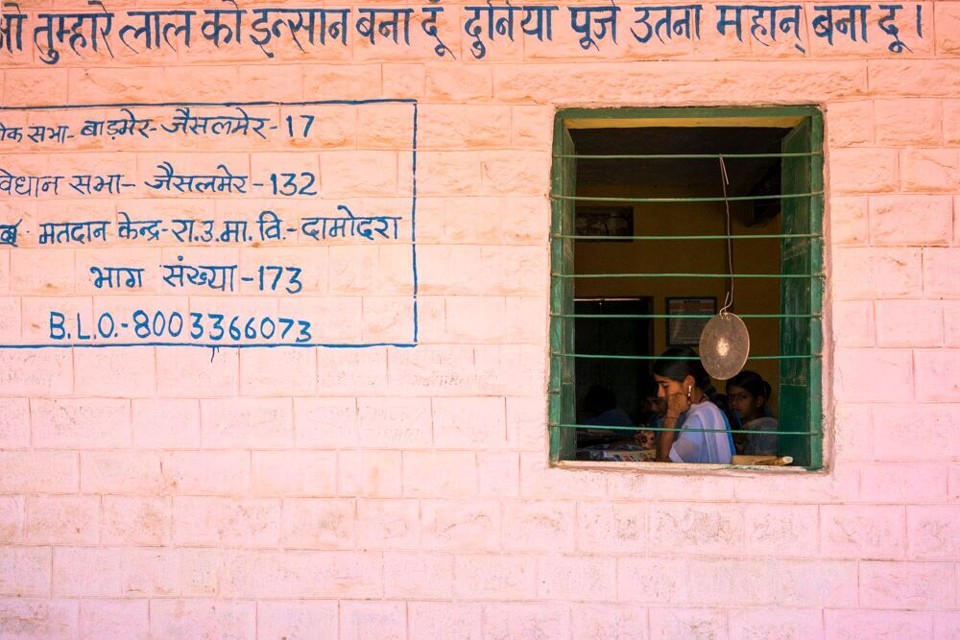 JAISALMER, INDIA—Once a year, the history lecturer Vijay Kumar Ballani and his colleagues go door-to-door in this rural village, imploring parents to send their children to a cinderblock complex that lacks classroom space, bathrooms, and desks.  He gives the same stock speech.
"Education is free, lunch is free, books are free, sanitary napkins are free,'' Ballani tells parents, urging them to visit this government-run school on the edge of the Thar Desert, where, on a warm day late last spring, 12 teachers were overseeing the education of 260 students from first grade through high school. "Your kids will have a better life if they are educated. No one will cheat you."
Ballani, known as "Mr. Desert'' for his knowledge of this area, also gives tours of the golden forts and palaces of Rajasthan when he isn't teaching or pushing villagers to keep children in school. Not surprisingly, he has better luck with boys; girls are too often needed by their families to toil in fields or care for younger children, especially in rural areas.
Now change, while slow, is coming to this country that has long left females behind, particularly here in Rajasthan, where only 52.66 percent are literate and some 350,000 are not in school, according to Educate Girls, a nonprofit aimed at getting more rural girls into classrooms. Less than half of them finish 10th grade in this pocket of northwestern India.
["Source-theatlantic"]