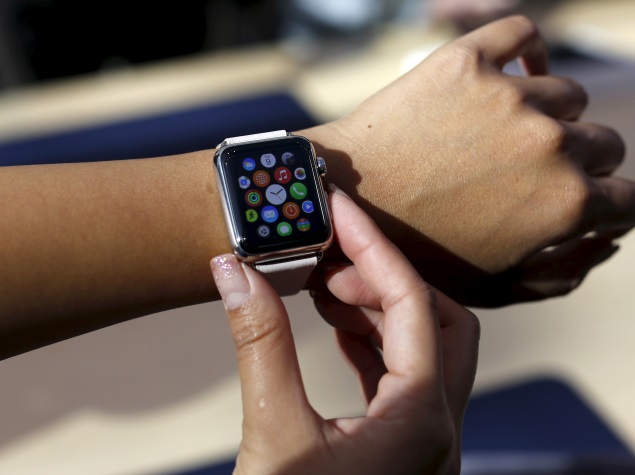 Apple earlier this month introduced watchOS 2, which will be rolled out later this year to Apple Watch users and bring several new features. While the Cupertino-based tech firm is still expected to be some distance away from launching a new wearable, rumours for what features the Apple Watch's successor will carry have already been doing the rounds. Fresh details have now been reported about the second-generation of wearables by sources close to Apple's plans.
To be clear though, since Apple famously develops several versions of product ahead of its launch, it is possible the features being tipped arrive in a model later than the Apple Watch 2 – as it is expected to be called. Regardless, the next Apple Watch is being tipped to feature a FaceTime video camera, which is likely to be placed on the top bezel, reported 9to5Mac. As the name suggests, users would be able to perform FaceTime video chats right from the device. A hint of this feature has already been seen in the watchOS 2, in which users can answer FaceTime audio calls from the Watch and can also route FaceTime video calls to either be answered by an iPhone model or rejected.
In addition, Apple is also said to be bringing more features to the Apple Watch 2 for it to be used without being paired to an iPhone. The plans are said to be part of an initiative internally termed as "tether-less". The initiative will be adding more features in the list, which for now comprises of text messaging, emailing, weather data and few more. For implementing more freedom to the Watch, Apple is planning to integrate a new wireless chipset in the rumoured device, including independent Wi-Fi functionality. The chips is also said to enable "Find my Watch" feature, which wasrumoured earlier.
Talking about the originally contentious 1-day battery life, the source added that as per Apple's research regular users finish their typical day with the current Apple Watch with the battery still having about 30 percent to 40 percent of charge. It is said that the firm was earlier planning to improve the battery life by huge margins. However, after the research the next-generation Watch might come with same or slightly better battery performance due to the inclusion of more efficient hardware. Also, with the newly introduced Nightstand charging mode in watchOS 2, the company is not likely to bring drastically better battery life or even introduce night-time features such as sleep tracking.
Moreover, the Apple Watch 2 is expected to arrive with more number of variants besides the existing Sports, Edition, and Watch versions. The firm might bring new models that bridge the gap between the high-end stainless steel Apple Watch variant and the base 18-karat gold Apple Watch Edition, as per the source. Possibilities are that Apple might introduce two new variants made out of titanium, tungsten, palladium, or platinum metals.
["source-gadgets.ndtv.com"]