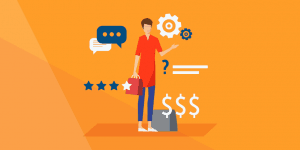 "It's a fad." "Won't last." "Wait till the next thing comes along."
The demise of the blog has been predicted ever since it first washed up on the shores of business marketing strategies. Looking at the figures, though, there's no sign of this trend slowing down. In 1999 there were just 26 blogs on the internet, by 2019 that number had grown to a dazzling 500 million.
The past ten years have proved that blogs work for business. 53% of marketers now consider blogs key to their marketing strategy, and businesses with blogs generate 55% more website visits than those without. If you don't have a business blog yet, perhaps 2020 is the year to adopt this marketing phenomenon. Need more persuasion? Here are 8 reasons why to take the plunge.
1. A Blog Gains You Higher Ranking With Google
In 2018 Google changed its algorithm to favour businesses that were sharing useful, informative content. Google's goal is to spread knowledge via the business community, so websites that provide unique copy that is of value to visitors will rank more highly than those that simply sell. Blogs demonstrate to Google that you're offering a great experience for searchers landing on your page.
2. Show and Tell
Many companies providing services or products have a great store of knowledge that they simply don't share. Whether it's showing your team's skills via a case study, or describing the way in which you manufacture what you sell. Hearing someone talk passionately or enthusiastically about what they make, or do, is a great experience and one that visitors really enjoy.
RECOMMENDED FOR YOU
Webcast, March 5th: How AI Can Find Opportunities and Shorten Your Sales Cycles
REGISTER NOW
3. Blogs Provide Reasons to Buy
Every business looks for a 'pain point'; a specific problem which your product or service can solve. Your blog can provide a whole range of 'pain point' examples, and show how the product provides an effective solution. Using story, anecdote and customer testimonial blogs can offer the softest of sells. When combined with clear calls to action, they're effective conversion tools.
4. Extend Your SEO
Blogs are great vehicles for 'long tail keywords' that expand your online reach. Suppose your major keywords are 'outdoor lights', or 'garden lights'. Creating blogs that use long tail phrases such as: "tips for summer barbecues', or "designing the perfect patio", gives you the opportunity to reach new markets. This is a perfect strategy if you want to boost sales of a niche product.
5. Give Weight to Your Social Media
Whether you use Facebook, Instagram, Twitter or LinkedIn, finding original content for posts can be exhausting. Blogs offer a great content option. They can be plundered for quotes, facts or tips. Or they can be published in full. Then they can be recycled when the opportunity presents itself in the form of a query, or news item.
6. Position Yourself as an Expert
If you're a B2B business, LinkedIn is the perfect platform to have an opinion about your sector. It's not about pontificating; it's simply showing that you have a distinctive perspective to share. If, for example, you work in construction, you might want to write about the need to attract more apprentices, or women, into the sector.
7. Make Visitors' Lives Better
Content marketing is all about delivering value. A key question that underpins 'value' is: "How can I make visitors' lives better?" The internet is full of answers to this question.
The most popular ways to create value include:
Professional hints and tips
'How to' step-by-step guides
Checklists for moving, booking a holiday etc.
Human stories linked to the business or product
8. Start a Conversation
21st century business is all about engagement, rather than 'selling', and that means finding ways to have a conversation with your customers. Blogs offer a golden opportunity. Some of the best blog posts are ones that start out by offering an idea, or solution, and ask for feedback in response. Opportunities for collaboration are hugely popular in the blogosphere. Building something together is what the internet does best – just look at Wikipedia!
["source=business2community"]