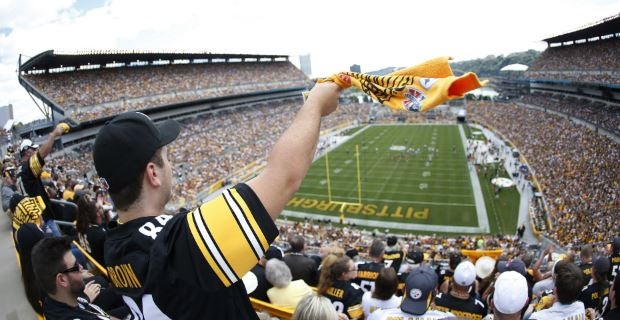 Last week, a pair of Emory University professors ranked their best NFL fans based on something they called "fan equity."
The two professors determined fan equity using 15 years of data measuring team performance, ticket prices, market size and other factors. While it revealed some interesting facts about some of the biggest fan bases in the NFL, there were variables, including stadium size, that limited the scope of the study.
However, another fan analysis takes away those variables.
Professors Mike Lewis and Manish Tripathi posted the results of a different study in which they looked at fan bases and their social media presence. Referring to it as "social media equity," Lewis and Tripathi compared teams' actual social media following versus predicted social media following based on current season performance and certain market characteristics.
Basically, as they put it, "what teams are over or under performing with respect to their Twitter following."
While the Cowboys placed first in the fan equity rankings, it was the Steelers on top of the social media equity list. Dallas came in second, followed by New England, Green Bay and New Orleans to round out the top five.
"No shocker," Lewis wrote of the Steelers topping the list. "Great fan base that turns stadiums in Atlanta or Arizona black and gold on occasion."
Pittsburgh ranked 14th in the earlier fan equity rankings, and the Steelers weren't the only team to make a major jump in the social media rankings. Oakland going from 30th to eighth and Cleveland making a leap from 31st to 13th were some of the major movers.
Now, for the full 2015 NFL Social Media Equity Rankings
1. Pittsburgh Steelers
2. Dallas Cowboys
3. New England Patriots
4. Green Bay Packers
5. New Orleans Saints
6. San Francisco 49ers
7. Philadelphia Eagles
8. Oakland Raiders
9. New York Jets
10. Baltimore Ravens
11. Chicago Bears
12. Seattle Seahawks
13. Cleveland Browns
14. Detroit Lions
15. Houston Texans
16. Buffalo Bills
17. Tampa Bay Buccaneers
18. Denver Broncos
19. New York Giants
20. Minnesota Vikings
21. Carolina Panthers
22. Tennessee Titans
23. Miami Dolphins
24. San Diego Chargers
25. Jacksonville Jaguars
26. Kansas City Chiefs
27. Atlanta Falcons
28. St. Louis Rams
29. Indianapolis Colts
30. Washington Redskins
31. Cincinnati Bengals
32. Arizona Cardinals
["source – pit.247sports.com"]