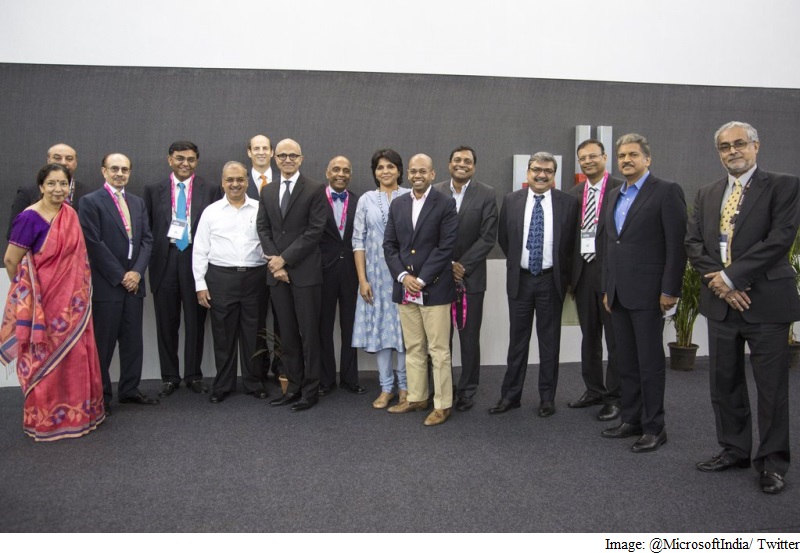 US-based technology major Microsoft on Thursday announced a string of partnerships, programmes and products claimed to help Indian organisations and governments to explore uncharted business areas and enrich customer and citizen experiences.
The newly launched local Microsoft Cloud and new devices will also catalyse digital transformation, the company said.
The tech giant, based in Redmond, California, announced partnerships with three e-commerce players – Justdial, Paytm and Snapdeal – and launched a special cloud initiative for startups aligned to smart cities at its first of its kind technology conference being held in Mumbai.
"At Microsoft, we strive to empower every Indian citizen and every business and government organization to achieve more," Satya Nadella, the Indian-born chief executive of Microsoft, said at the conference.
"With the newly launched Microsoft Cloud and with Surface Pro 4, our customers here in India have the digital technology they need to seize incredible new growth and opportunity on a global scale," he added.
According to the company, Justdial and Microsoft will explore the use of Bing and cloud-based analytics to provide and enhance customer experience.
"Paytm and Microsoft are working on three core areas of partnership. The companies will integrate the Paytm app and Paytm Wallet into Cortana to enable consumers to pay for their utility bills and carry out mobile transactions easily. Paytm will use Office 365 for their merchants' inventory and account management," it said in a statement.
"Lastly, Paytm will facilitate and support Microsoft service sales via their merchant network," it added.
Justifying the partnerships, Bhaskar Pramanik, chairman, Microsoft India, said: "Cloud and mobile technologies are already galvanising Indian industry. We will demonstrate that technology in the hands of brilliant people can create magic."
Snapdeal will work with Microsoft Cloud platforms to create a digital automotive dealership that is expected to change the way customers make automotive buying decisions.
In addition, Microsoft also said that startups can now apply for individual access up to $120,000 (Rs. 80,00,000) worth of Azure computing to help India's smart cities explore solutions and run smart city digital pilots.
"Cities can also apply for access to these services and solutions on Azure through a new portal which connects start-ups with cities and their needs. This initiative is anticipated to impact over 50 smart cities in the next year through a catalogue of over 50 start-ups and ISV solutions," the company added.
["source-gadgets.ndtv"]