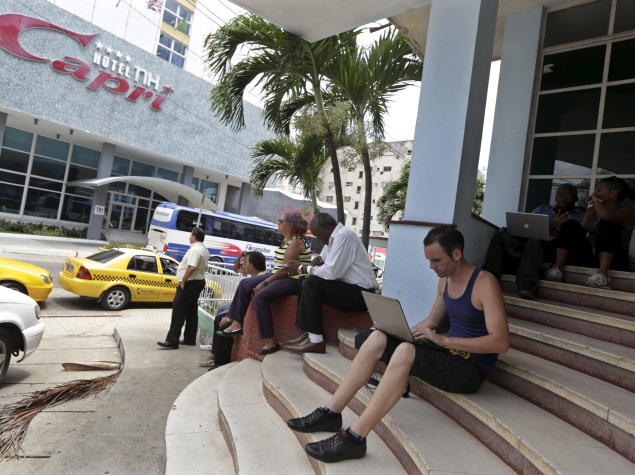 Cuba announced plans Thursday to open 35 public Wi-Fi hotspots and halve the price to go online, seeking to expand Internet access in one of the world's least-connected countries.State telecoms firm Etecsa said the hotspots, a first for the communist island, would be set up nationwide and begin service in July.
It is "a first step toward increasing Internet access," Etecsa communications chief Luis Manuel Diaz told a state newspaper.
Etecsa had previously offered public Wi-Fi in a small pilot program, and unstable illegal connections periodically appear and disappear in Cuba.
To access the official hotspots, users will have to create an account with Etecsa for $1.50 (roughly Rs. 95) and pay an hourly connection fee.
Etecsa also announced it was reducing the price to access the Internet to $2 (roughly Rs. 127) an hour, down from the current promotional rate of $2.50 (roughly Rs. 159) and the long-time rate of $4.50 (roughly Rs. 286).
It did not say whether the same rate would apply to the new Wi-Fi connections.
Since 2013, Cuba has had 155 public Internet cafes where users can go online for the hourly rate.
But the price is steep in a country where the average salary is $20 (roughly Rs. 1,272) a month.
Home Internet access is restricted to members of certain professions, such as journalists, doctors and students.
According to the International Telecommunications Union, just 3.4 percent of Cuban homes were online in 2013.
President Raul Castro's government has said it wants all Cubans to have Internet access by 2020.
US President Barack Obama has named increased Internet access for the island as one of the goals of the historic thaw between Washington and Havana announced last December
["source-gadgets.ndtv.com"]