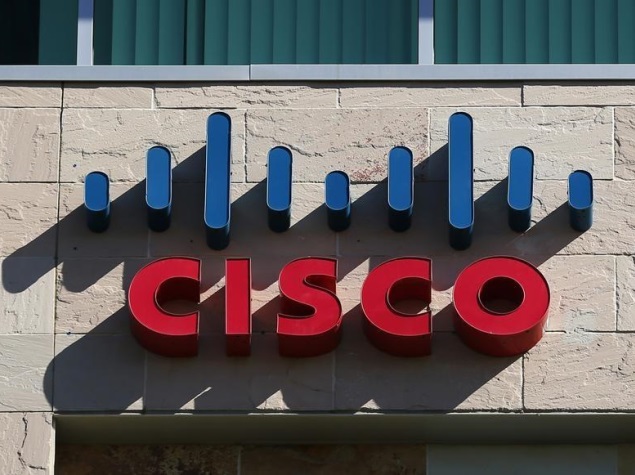 San Jose-based technology multinational company Cisco on Thursday said it will invest $60 million (roughly Rs. 382 crores) in India and also begin manufacturing in the country to support Prime Minister Narendra Modi's digital transformation schemes.As part of its investment, the tech major will train 1.2 lakh students for which it has kept aside $20 million (roughly Rs. 127 crores). It will spend $40 million (roughly Rs. 254 crores) to expand its India facility spread over four million square feet, and designed as a campus-as-a-city.
"We are investing big in India. Cisco is committed to partnering with the Indian government to translate the 'Digital India' vision into reality," John Chambers, chairman and CEO of Cisco, said.
"I believe that India's entrepreneurial spirit, highly skilled workforce and supportive government will accelerate the country's digital transformation," he added.
Cisco in India has already trained 1 lakh students at 198 academies via its Networking Academy programme since its inception.
(Also see:  Cisco to Invest More Than $10 Billion in China)
According to the company, the skill development programme is a cloud-delivered, scalable, high-quality programme that helps students learn how to design, build, secure and maintain computer networks.
As part of its extended strategy, the tech major that outsources most of its manufacturing said that it was looking to start manufacturing in India.
"Owing to this commitment, we have taken the first step towards setting up the manufacturing ecosystem here," Chambers said.
"We will prioritise and soon bring our supply chain together to start manufacturing products like broadband equipment and target defence contracts," he added.
The company, which invests $1.7 billion (roughly Rs. 10,823 crores) in India annually and has its second headquarters in New Delhi, is also going to witness change in leadership as Chuck Robbins will take over as CEO.
"The Indian government's vision for a 'Digital India' is truly transformative and will create huge opportunities for the country and its citizens," Chuck Robbins, the incoming CEO, said.
"Cisco believes our renewed local investments, global expertise and world-class innovation will accelerate the government's vision to create sustainable competitiveness and prosperity. We are deeply committed to partnering with India to achieve its digital vision," he added.
["source-gadgets.ndtv.com"]