Following several beta versions that have been released to developers as well as eager consumers over the past few weeks, the final version of iOS 9.2 is now out. It's on its way to supported iPhones, iPads, and iPod touch units as an update that's about 300MB in size (though this may vary depending on device).
iOS 9.2 comes with a very long list of bug fixes and enhancements, so it's probably one to install as soon as you can. Apple Music, News, Mail, and iBooks have all received new functionality. And Siri now has support for Arabic in Saudi Arabia and the United Arab Emirates.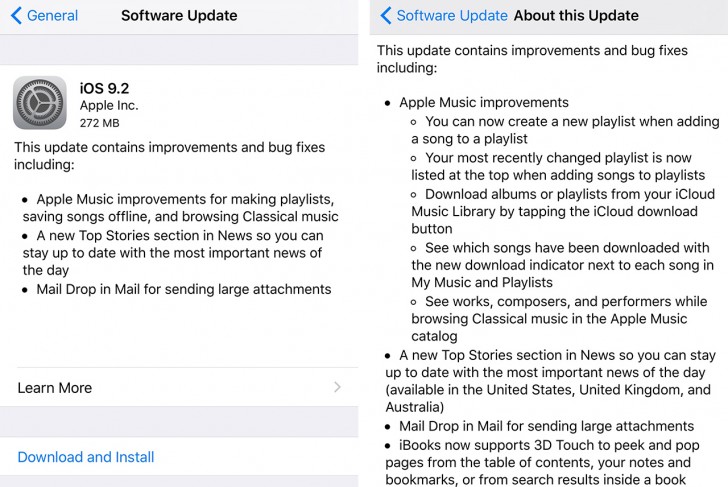 Apple music now lets you create a new playlist when you want to add a song to a playlist, it lists your most recently changed playlist at the top when adding songs, and it shows you works, composers, and performers when browsing classical music in the catalog. You can download albums or playlists from your iCloud music library, and see which songs have been downloaded through a new indicator.
News gets a Top Stories section in the US, UK, and Australia, which gives you the most important events of the day. You can use Mail Drop in Mail to send large attachments. iBooks now supports 3D Touch for peeking at and popping up pages from the table of contents, your notes and bookmarks, or from search results inside a book. Additionally, you can listen to an audiobook while you're browsing your library, reading other books, or just exploring the iBooks Store.
["source-gsmarena"]