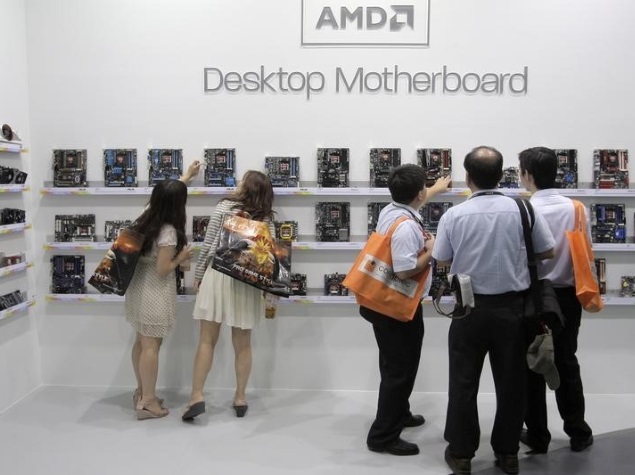 Chipmaker Advanced Micro Devices Inc is at the initial stage of reviewing whether to split itself in two or spin off a business, seeking to reverse its fortunes and take on rival Intel Corp , according to three people familiar with the matter.
The deliberations are preliminary and no decision has been made, the people said. The review highlights Chief Executive Lisa Su's determination to consider every possible option to turn the company around.
AMD, based in Sunnyvale, California, has asked a consulting firm to help it review its options and draw up scenarios on how a break-up or spin-off would work, the people said this week, asking not to be identified because the deliberations are confidential.
One option under consideration is separating AMD's graphics and licensing business from its server business, which sells processors that power data centers, one of the people said.
AMD had explored such a move in the past and decided against it, the people said. Su, however, who took over as CEO last October, judged that there is merit for the company to at least consider such a possibility again, the people added. There is no certainty that a split or spin-off will occur, the people cautioned.
An AMD spokeswoman said no such project was in the works at this time and reiterated the company's commitment to the long-term strategy it laid out in May at its analyst meeting.
AMD, which has a market capitalization of around $2 billion, has competed with much larger Intel since the 1980s, and at times has made inroads with its PC and server chips. AMD has an extensive cross-licensing agreement with Intel, an issue AMD would have to study carefully in the case of a break-up.
In the last few years, AMD has been caught somewhat flat-footed by new competitors designing low-cost and power-efficient chips. AMD shares have fallen 40 percent over the last 12 months.
The company, which said in October it would cut 7 percent of its workforce, is now shifting its focus to gaming consoles and low-power servers to combat falling laptop sales.
While large rivals such as Intel have deeper pockets to fund research on new products, AMD faces declining cash flows and has a more modest balance sheet.
AMD's net loss widened to $180 million, or 23 cents per share, in the quarter that ended March 28, from $20 million, or 3 cents per share, a year earlier. It also missed on revenue expectations. It is forecasting a return to profitability in the second half of the year.
["source-gadgets.ndtv.com"]