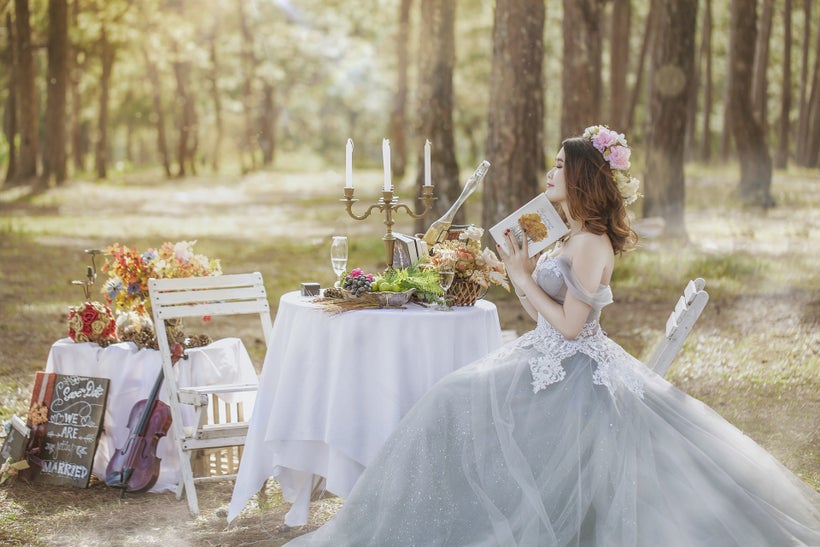 For better or worse, social media is affecting the way we live our lives; everything from the everyday to the once-in-a-lifetime has felt the weight of social media's heavy influence on us. Like most things these days, the wedding industry hasn't been immune to the power of social media, and for every potential "pro" the power of the internet presents brides-to-be, there is another possible "con." Long gone are the days when the only folks who participated in the big day were those who merited an invitation — the entire wedding planning process has become communal, with virtually everyone in the world (or at least all those friends and followers) able to access the details of the day in live time. Here are some of the best (and worst) things to have happened to the wedding industry in the age of Instagram.
Pinterest. Modern brides have more tools at their disposal than ever before when it comes to visualizing, planning, and executing their fantasy wedding. Bridal boards abound with wedding "pinspiration," making it easier than ever before for brides to communicate their ideas with wedding planners, vendors, friends, and family. It's more than just building excitement and anticipation for the event, too; Pinterest can help brides focus their ideas, channel their energy, communicate effectively, and ultimately get what they really had in mind from their vendors, even if they lack the industry jargon to describe the cascading bouquet or particular strain of flower they are dreaming about.
Connected Guests and Ceremonies. Technology is a beautiful thing for couples with extended family spread across the country or even the globe, since it can allow guests who otherwise would not be able to attend the ceremony to witness the vows. It's even possible to get hitched without the bride and groom standing in the same room these days, with the power of technology like Skype and Facebook LIVE making it possible for online proxy marriages to take place. While it may seem that brides and grooms would want to stand and face each other on the big day, it's not always possible — military and immigrant families, for example, can use the technology to make the impossible possible.
Cost Efficiency. Not only are brides better equipped to compare prices and speak with multiple vendors to get the best deals, but they also have access to ecommerce vendors, like Azazie, that can help them slash their budgets at every turn. The era of social media has made it possible to order a custom-designed wedding gown online at half the prices of traditional storefronts, without ever having to set foot inside a boutique. Destination wedding dreamers can conduct virtual meetings with vendors to avoid having to travel. Couples can organize Spotify playlists to save some coin on a cheesy DJ. Creative couples can find countless ways to keep costs down through the power of social media and the internet.
Pinterest. It may be hard to imagine that there's a dark side to pinning 500 photos of the perfect manicure to your "Wedding Nails" board; it seems innocent enough, after all. But it can be all but impossible for couples to "turn off" wedding planning mode, leaving brides endlessly scouring social media for the best new ideas and causing them to change their minds — a lot. "Pinterest is my worst enemy," says destination-wedding planner Sandy Malone. "[Brides] put down the deposit, everything's good to go, and then they're on Pinterest, they're on Instagram and see the need to add more things and do more stuff. My clients are so plugged into social media."
Connected Guests and Ceremonies. We've all heard horror stories of a plugged-in guest who ruined the professional photographer's shot with their amateur camera-phone skills. In fact, tons of couples are opting for unplugged weddings, asking guests to set their smartphones and other technology aside and to simply enjoy the day and live in the moment. And there are other concerns for highly connected weddings; it can be difficult to curate what goes on the internet when you give several hundred guests a hashtag and ask them to tweet away. While brides of yesteryear may have only ever had to show their perfectly coiffed and filtered professional photos, brides today have to worry about even the most well-intentioned guests snapping an incredibly unflattering pic and hashtagging it for the world to see.
Crazy Spending. Although there are more than a few ideas online for brides on a budget, the truth is that social media may be driving up the costs of getting married. One reason for this is that Pinterest and Instagram cause brides to change their mind when they stumble across bigger, better, more expensive ideas. "Social media has definitely influenced weddings in a way that couples are seeking larger-than-life ideas," says Kristen Maxwell Cooper, executive editor of The Knot, "They are having greater expectations for how their day should look and feel." One wedding trend, for example, is a flower wall, featured in Kim and Kanye's extravagant nuptials. Although the cost of that decoration could have been as much as $136,000, because there are so many pictures of flower walls on social media, couples tend to think it's a normal decoration attainable with an average budget.
It's a good thing most couples still vow "for richer or poorer," since social media's influence can put enormous pressure on brides to provide the ultimate wedding experience to their guests. While expectations may be high, contemporary brides to have access to greater variety in their resources and are able to be more creative and connected in their wedding planning process, making it possible to have a truly special day unique to your love story.
["Source-huffingtonpost"]