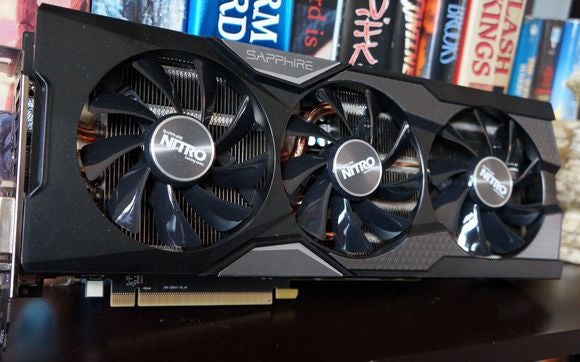 There are no bad graphics cards, only poorly priced graphics cards. Shifting MSRPs can sway recommendations in the blink of an eye.
Consider the fierce battle going on in the $500 to $600 range: When AMD's Radeon R9 Fury launched, it delivered great bang-for-buck for people wanting a bit more oomph than the GeForce GTX 980, but who couldn't drop $650 on a GTX 980 Ti or Fury X. Unfortunately for AMD, a mix of supply issues and slashed costs on Nvidia's end madehigh-end, overclocked GTX 980s a more compelling option shortly thereafter.
But now, AMD's family of cards powered by robust Fiji chips with high-bandwidth memorycan be found much more easily, and prices for Fury graphics cards have fallen as low as $500. And Sapphire, one of AMD's initial Fury partners, just released the new Nitro R9 Fury, which features some fairly substantial tweaks over its original Fury model. What better time to see if the tables have turned yet again?
Meet the Sapphire Nitro R9 Fury
At its core, the $520 Sapphire Nitro R9 Fury is built around the default Fury configuration shown below. But Sapphire's tuned and configured all sorts of things, from the physical design to clock speeds, to give this card an identity all its own.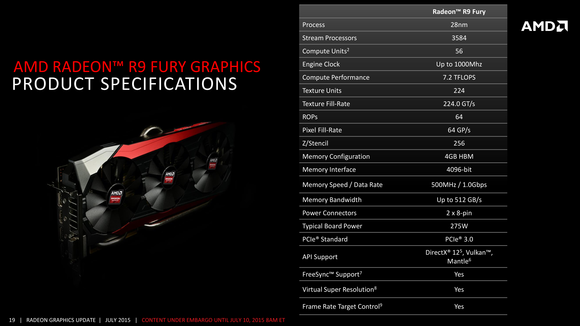 If you've ever laid eyes on another Radeon Fury, the first thing you'll notice is how physically different the Nitro R9 Fury looks from AMD's reference design. That's because Sapphire designed a custom PCB for this card that's not only longer and leaner than normal, but also features a six-phase voltage regulator module packing Sapphire's "Black Diamond" chokes. That helps reduce VRM temperatures by 20 percent and, according to Sapphire's Ed Crisler, "allowed us to beef up the power subsystem of the card."
The design also increases the overclocking potential of the Nitro R9 Fury, which must sound like music to Radeon enthusiasts' ears, as AMD's Fiji chips are famously stingy overclockers. The Asus Strix Fury we reviewed at the Fury lineup's launch didn't even feature an overclock out-of-the-box, while we could only push AMD's flagship Fury X anextra 50MHz over factory settings. Sapphire's Nitro R9 Fury rocks a 50MHz overclock by default—pushing the 1,000MHz reference design to 1,050MHz. And between the refined power delivery, dual-BIOS support, and beefy Tri-X cooling system, it's clear this card's designed to reach even loftier heights.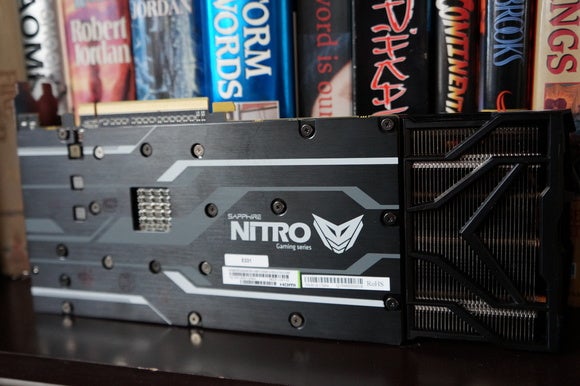 Speaking of the cooling system: It's no joke. Sapphire's graphics cards constantly amaze, and the triple-fan solution on the Nitro R9 Fury is clearly the pinnacle of the company's cooling tech. Underneath the trio of whirling, intelligently controlled blades that shut down completely at lower loads, you'll find a slew of thick copper heat pipes snaking through a heat sink that runs the length of the card and then some; if you flip the Nitro R9 Fury over, you'll see the heat sink extends far beyond the length of the PCB (which itself is covered by a snazzy aluminum backplate adorned with the Sapphire Nitro logo). This is a seriously well-built graphics card, and one that runs so cool and quiet, it almost feels like magic.
All that raw firepower and cooling hardware comes at a price, though. The Nitro R9 Fury is massive—we're talking over two slots deep and nearly 13-inches in length (though it isn't nearly as wide as the Asus Strix Fury). You'll need a big honkin' case for this puppy.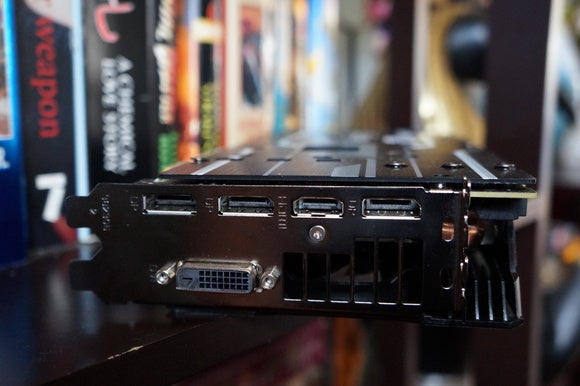 Port-wise, you'll find HDMI (1.4a, so limited to 30Hz at 4K resolution, sadly), a trio of DisplayPorts (good for 60Hz/4K, and necessary for butter-smooth FreeSync monitors), and a welcome DVI-D port, which is missing from AMD's reference Fury design. The card sucks down 375W of power over a pair of 8-pin connectors. Sapphire throws in a full-sized DisplayPort cable, too.
Of course, as Fiji is AMD's latest and greatest GPU, the Nitro R9 Fury also supports AMD's latest and greatest software features, like FreeSync, Virtual Super Resolution, True Audio, the oh-so-yummy Frame Rate Target Control, Eyefinity, and more.
["source -pcworld"]