This Friday will be a very busy day for Sprint's prepaid brands, Boost Mobile and Virgin Mobile. The former will see no less than three new smartphones launching on April 15, while the latter will have to go with two out of three. The trio in question consists of the Samsung Galaxy J7, LG Stylo 2, and Kyocera Hydro Reach.
The Galaxy J7 arriving at Boost and Virgin isn't this year's iteration, instead it looks to be last year's model, but it does have a couple of upgrades compared to the internationally available unit. Namely, it sports 2GB of RAM, and it's also running Android 6.0 Marshmallow right out of the gate.
The J7 also has a 5.5-inch 720p Super AMOLED touchscreen, 16GB of expandable storage, a 13 MP rear camera, a 5 MP selfie cam, Qualcomm's Snapdragon 615 SoC with a 1.4 GHz octa-core Cortex-A53 CPU, and a 3,000 mAh battery. It will be sold by the prepaid carriers for $229.99 plus tax (and obviously sans contract).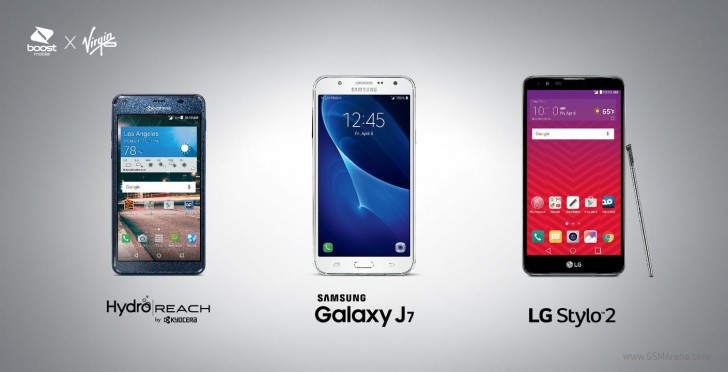 The LG Stylo 2 is the successor to the G Stylo from last year. It boasts a 5.7-inch 720p IPS touchscreen, a 13 MP rear camera, a 5 MP selfie snapper, Qualcomm's Snapdragon 410 chipset (with a 1.2 GHz quad-core CPU), 2GB of RAM, 16GB of storage, and a 3,000 mAh battery. It runs Android Marshmallow and comes with a stylus as its name implies.
The Stylo 2 will be priced at $179.99 plus tax and will arrive at Boost this Friday and at Virgin on May 9.
Finally, the Kyocera Hydro Reach has a 5-inch 540×960 touchscreen, a 5 MP rear camera, a 2 MP front-facing unit, a 1.1 GHz quad-core processor, 1GB of RAM, 8GB of storage, and a 2,160 mAh battery. It runs Android 5.1 Lollipop. Its main claim to fame is the fact that it's water and dust proof. It will cost $99.99 plus tax.
["source -business-standard"]