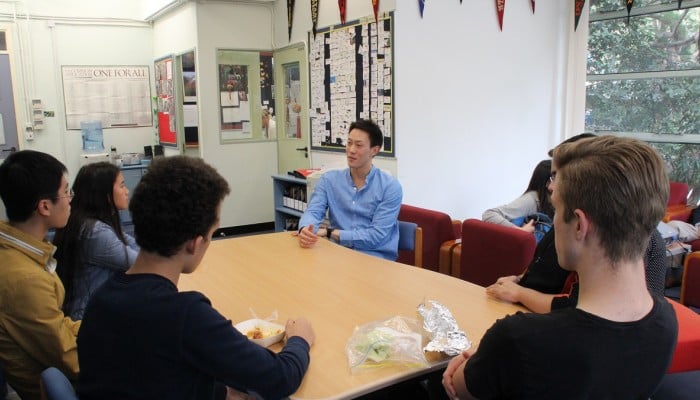 Being a student and an outstanding athlete requires extreme dedication and a strong work ethic. These qualities are abundant in Geoffrey Cheah, who initially started swimming at a young age to fight his asthma. He went on to become a competitive swimmer for many years before he eventually got the chance to represent Hong Kong in the Olympic Games Rio 2016.
It wasn't enough to just work hard, he had to work smart, too. He devised ways to train effectively while balancing his academic life as a student at West Island School (WIS). This meant paying close attention in classes and using every break or gap in his schedule to study. At home, he used little tricks to keep himself focused.
"I would stay away from the internet, as that would mean [I would start] messaging my friends," explains Geoffrey. "I would quiet my mind and focus on one thing at a time. It was a great way for me to learn time management and how to take initiative." He also got used to being proactive, asking teachers for help when he didn't understand something and doing research independently, all of which helped him greatly when he started studying at Stanford University.
For Geoffrey, getting into the elite US institution was a culmination of all of his hard work, which made him such an excellent student. He would eventually graduate in 2013 with a BSc in Earth Systems, Science and Technology.
During the three years before the Olympics, he continued training in the US and had a chance to learn from the top American swimmers. He was inspired by their self-confidence as well as their team spirit and understood that they were successful because of hard work as much as natural talent.
Studying overseas and participating in international competitions, Geoffrey noticed that he felt more worldly and self-assured than other young people, something he attributed to his education.
"One of WIS' biggest strengths is how diverse it is," he says. "The students have the ability to understand other cultures and people from different backgrounds. It's a wonderfully diverse place and my experience there really helped me. When I went away, I realised how lucky I was."
In addition to undergoing gruelling training regimens for the Olympics and living under tremendous pressure, Geoffrey was emotionally drained from worrying about his father, who had come down with a serious illness. And despite doing well in his heat, he was unable to achieve the herculean task of reaching the Olympic finals.
"It's just been the most challenging year of my life," explains Geoffrey. After focusing so intensely on one singular goal, he wants to bring balance back to his life and has decided to take some time off, concentrate on himself and use the time to recover, physically and emotionally. He is contemplating what kind of goals to set for himself and how he would like to spend the second half of his 20's.
"I am taking it one day at a time and letting things come to me," says Geoffrey. "I'm still keeping in shape but I'm using this time to figure out where I'm going to go." In the meantime, he is also contributing to society as a Men of Hope Ambassador at Hong Kong Adventist Hospital Foundation, a charity supporting cancer patients.
Fortunately for Geoffrey, sport and being an ESF student taught him to be strong, confident, and to work hard, characteristics which he can apply to any other future endeavours to also make those a success.