P2P allowed: Yes—select countries
Business location: Hong Kong (officially)
Number of servers: 750+
Number of country locations: 142*
Cost: $10.95 per month, or $78 for two years
Here's the thing about VPNs: They're built on trust. Before you pay a company to secure your internet traffic you need to trust that it'll do what it claims. That's what makes this review so interesting. PureVPN is a solid service with good speeds, and the right promises in its privacy policy.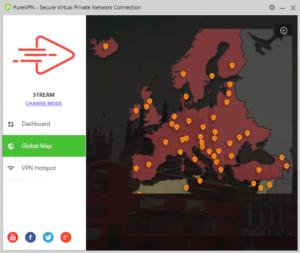 But a number of PureVPN's servers aren't where they claim to be. The service is using what are known as virtual servers, which means a server that is supposed to be in the U.S. might actually be in Europe.
It's a complicated topic that we'll get into in the trust section, but first let's take a deeper look at PureVPN.
PureVPN's interface is fairly easy to understand and uses a pretty common design idea for VPN desktop apps. You have a small window with a main panel and a left rail for navigation. Oddly, the settings option is in the upper-right corner of the window next to the minimize window option.
When you first sign in to PureVPN, it asks what kind of VPN usage you're interested in such as streaming, Internet Freedom (i.e. defeating firewalls), security/privacy, file-sharing, or dedicated IP address. We saw similar first-time setup options from Romania-based CyberGhost. Presumably, these options are used to direct users to the servers best tuned for these specific purposes.
Once you've chosen your desired usage, which you can change in the settings, you are confronted with the main interface. The left rail features just three options: Dashboard, Global Map, and VPN Hotspot.
Dashboard displays your current connect/disconnect status, as well as the option to search for a specific location; you can also run a ping test to see the speed between your location and a VPN location; there's also a Purposeoption in Dashboard that helps you find a server for a specific use such as Netflix U.S. streaming, watching BBC iPlayer, or Sky TV Germany. In my tests, the Netflix U.S. streaming support was inconsistent.
The Global Map option in the left rail is your usual map-based interface for choosing a country connection.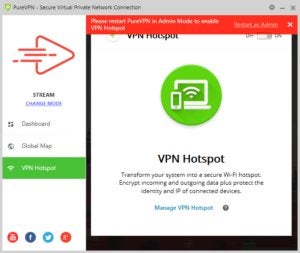 The last section in the left rail is VPN Hotspot, which lets your PC act as a VPN-enabled hotspot for all the devices around you.
PureVPN's interface is very simple and functional enough to get the job done, but it does have a few elements that detract from it. There are ads for its referral program, for example, at the top of the Dashboard section when connected to the VPN. There are also social media links at the bottom of the left rail that link to the company's accounts on Facebook, Google Plus, Twitter, and YouTube. I suppose the social media links make it easy to try and get customer service help, but to my eyes they make the whole app look, well, cheap.
Note: This review is part of our best VPNs of 2017 roundup. Go there for details about competing products and how we tested them.
TABLE OF CONTENTS
Features and services
Performance
Privacy, anonymity, and trust
Conclusion
Features and services
For those who want to dive into the settings, there are a few options worth looking at. The App Settings can let you start up the app automatically—an option that is set by default—as well as launch your default browser after connection, or automatically reconnect if your connection drops. There's also an option to ping servers once the app starts running. That last option is nice since it allows you to see at a glance how responsive a certain location should be before connecting.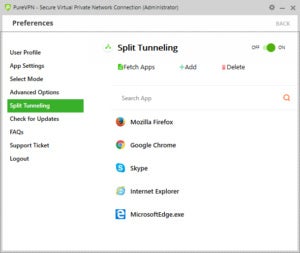 There are also some of the usual VPN features such as the internet kill switch that takes you offline automatically if the connection drops. PureVPN also lets you use split tunneling, which directs specific programs to use the VPN connection and others to use your regular IP address that isn't behind the VPN. This could be helpful if you want to use a VPN, but want to set aside a browser such as Firefox for use with Netflix.
The thing about these power-user features is that you have to restart the app in administrator mode, which seems like overkill and an inconvenience.
PureVPN has a refund policy, but be careful. It's only good within seven days of your order or renewal date; you cannot use more than 3GB of bandwidth (that's cumulative up and down); or exceed 100 VPN sessions.
File sharing is allowed only in specific country locations, but that number is surprisingly broad at 107. You will see a note next to a country connection when peer-to-peer is available, or you can see the complete list on PureVPN's site.
[Source"indianexpress"]