HMD took it slow when it resurrected the Nokia brand. It initially launched the Nokia 6 in China and managed to sell 100,000 units in the first quarter (per IDC numbers). Its confidence grew and expanded to more regions and introduced more models.
Q2 saw the introduction of the Nokia 5 and 3. Sales jumped up significantly as those two (along with the 6) went on the international market – New Nokias don't seem to do well in China.
The number of smartphones sold per quarter kept growing and in the last three months of 2017, HMD had a 1% share of global smartphone sales – a total of 8.45 million units – according to Counterpoint Research.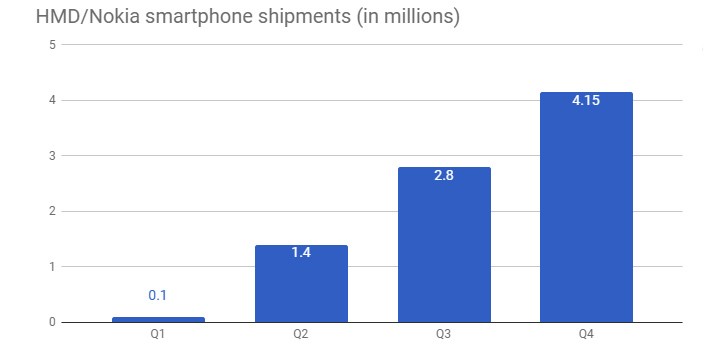 But HMD also controls the Nokia brand on the feature phone side of things. In Q3, it moved 13.5 million feature phones. In Q4, it got into the Top 5 in India in the feature phone segment.
HMD has not released an official report on its sales so all these figures are estimates by analysts.
["Source-timesofindia"]