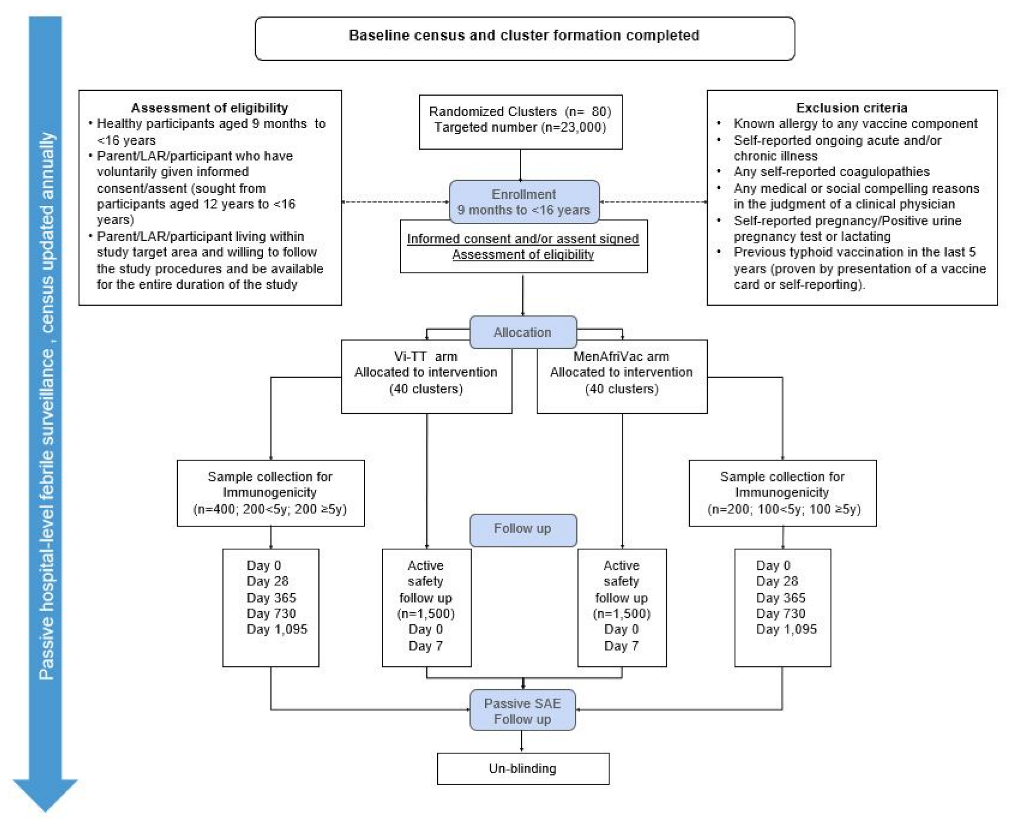 Summary
Background
Typhoid fever is a major public health problem in low-resource settings. Vaccination can help curb the disease and might reduce transmission. We have previously reported an interim analysis of the efficacy of typhoid conjugate vaccine (TCV) in Nepali children. Here we report the final results after 2 years of follow-up.
Methods
We did a participant-masked and observer-masked individually randomised trial in Lalitpur, Nepal, in which 20 019 children aged 9 months to younger than 16 years were randomly assigned in a 1:1 ratio to receive a single dose of TCV (Typbar TCV, Bharat Biotech International, India) or capsular group A meningococcal conjugate vaccine (MenA). Participants were followed up until April 9, 2020. The primary outcome was blood culture-confirmed typhoid fever. Cases were captured via passive surveillance and active telephone surveillance followed by medical record review. The trial is registered at ISRCTN registry, ISRCTN43385161 and is ongoing.
Findings
From Nov 20, 2017, to April 9, 2018, of 20 119 children screened, 20 019 participants were randomly assigned to receive TCV or MenA vaccine. There were 75 cases of blood culture-confirmed typhoid fever included in the analysis (13 in the TCV group and 62 in the MenA group) over the 2-year period. The protective efficacy of TCV against blood culture-confirmed typhoid fever at 2 years was 79·0% (95% CI 61·9–88·5; p<0·0001). The incidence of typhoid fever was 72 (95% CI 38–123) cases per 100 000 person-years in the TCV group and 342 (95% CI 262–438) cases per 100 000 person-years in the MenA group. Adverse events occurring within the first 7 days post-vaccination were reported previously.
Interpretation
The final results of this randomised, controlled trial are in keeping with the results of our published interim analysis. There is no evidence of waning protection over a 2-year period. These findings add further support for the WHO recommendations on control of enteric fever.
Funding
Bill & Melinda Gates Foundation.
Introduction
Typhoid fever, once endemic in high-income countries, remains a major public health concern in low-resource settings where there is inadequate sanitation and poor hygiene conditions, including Nepal.
1
, 
2
, 
3
More than 9 million cases of febrile illnesses and 110 000 deaths are attributed to typhoid fever each year.
4
South Asia accounts for over 70% of the global burden.
1
Growing antimicrobial resistance in the region, especially outbreaks of cephalosporin-resistant typhoid in Pakistan, poses a challenge in the treatment of typhoid fever.
5
, 
6
Access to clean drinking water, adequate sanitation and good hygiene are essential for control of typhoid fever, but the substantial costs associated with the large infrastructure changes and difficulties in making and maintaining behavioural changes in low-resource settings has been challenging. Vaccines against typhoid fever can be a cost-effective interim solution to curb the disease and antimicrobial resistance associated with it.
7
, 
8
Although licensed vaccines are available, their use has been limited to travellers. The parenteral Vi polysaccharide vaccines are poorly immunogenic in young children. The oral Ty21a vaccine is not licensed for children younger than 6 years and is difficult for most children to swallow. Vi-rEPA, a typhoid conjugate vaccine (TCV), showed high efficacy in young children; however, never advanced to market approval.
9
More recently, a new TCV containing a Vi polysaccharide conjugated to tetanus-toxoid protein carrier (Typbar-TCV) has shown high immunogenicity and the ability to elicit immunological responses in young children.
10
In principle, TCVs can elicit a longer duration of protection in comparison with polysaccharide vaccines.
9
The WHO Strategic Advisory Group of Experts, in October, 2017, recommended the use of TCV for the control of endemic and epidemic typhoid fever and in December, 2017, Typbar-TCV was WHO-prequalified.
11
Research in context
Evidence before this study
We searched PubMed for research articles on typhoid conjugate vaccine efficacy in children published any time before April 2, 2020, with no language restriction. We used the search terms "typhoid fever", "conjugate vaccine", "high burden", and "children". A randomised, controlled trial of Vi-rEPA, a conjugate vaccine containing Vi bound to non-toxic recombinant Pseudomonas aeruginosa exotoxin A, done in Vietnam in children aged 2–5 years showed a vaccine efficacy of over 90% over 27 months of follow-up. The vaccine, however, is unavailable in the market.The interim analysis of this study has been published previously in which we reported that a single dose of typhoid conjugate vaccine (TCV) given to children aged 9 months to younger than 16 years conferred over 80% protection in the first 12 months after vaccination. There are no other published studies showing the efficacy of this typhoid conjugate vaccine.
Added value of this study
This study shows the protective efficacy of the TCV in children over 2 years and supplements the previously reported one-year interim results of this study. Additionally, we report the immunogenic response to the vaccine up to 18 months post-vaccination. The results suggest that a 4-fold increase in antibody titre is maintained in a large proportion of the children at 18 months.
Implications of all the available evidence
The results of the study show that protection is maintained with a single dose of typhoid conjugate vaccine protection up to 2 years after vaccination. The results support the WHO recommendations to vaccinate children in endemic typhoid settings. Further data on medium-term to long-term efficacy of the vaccine is needed to establish the need for booster doses.
We did a phase 3 randomised, controlled trial of a single dose of TCV in Lalitpur, Nepal, where typhoid is endemic, as a part of the Typhoid Vaccine Acceleration Consortium (TyVAC),
12
with the aim of establishing the field efficacy of TCV. TyVAC is a partnership between the Center for Vaccine Development and Global Health at the University of Maryland School of Medicine, the Oxford Vaccine Group at the University of Oxford, and PATH, an international non-profit organisation. In 2019, we reported the interim results after 1 year of follow-up from the ongoing trial.
13
A single dose of TCV had an efficacy of 81·6% (95% CI 58·8–91·8; p<0·001) in the first year after vaccination. Seroconversion defined as a 4-fold increase in anti-Vi IgG titres 28 days post-vaccination was 99% in the TCV group. We now report the final efficacy results after 2 years of follow-up.
Methods
Study design and participants
In this phase 3, double-blind, individually randomised, controlled trial in Lalitpur Metropolitan City, an urban area within Kathmandu Valley, Nepal, we enrolled children aged 9 months to younger than 16 years old. Parents or legal guardians provided written informed consent before enrolment, and assent was sought from children aged 7 years and older. Follow-up of the trial participants was planned for a 2-year period until the last participant was unmasked. The unmasking process started from Jan 20, 2020. Each participant was offered the alternative vaccine to the one they previously received, and a blood sample was taken in a subset of participants. On March 22, 2020, after the government of Nepal's announcement to restrict all unnecessary movement of people owing to the COVID-19 pandemic, the field activities were stopped and unmasking and revaccination could not be completed. The study participants were informed about the suspension of the vaccination and will be unmasked and offered vaccination after the situation improves and in accordance with government directives. Unmasking and vaccination was resumed from Jan 25, 2021. After being temporarily suspended again on April 28, 2021, owing to a second wave of COVID-19, the study has again resumed from May 27, 2021. Passive surveillance clinics remained open for the 2-year period until April 9, 2020, providing a full 2 years of follow-up for the primary efficacy endpoint.
The trial was reviewed and approved by the Oxford Tropical Research Ethics Committee and the Nepal Health Research Council and was done in accordance with the principles of the Declaration of Helsinki. The protocol has previously been published and the details of the inclusion and exclusion criteria are included in the appendix (p 3).
13
, 
14
Randomisation and masking
Participants were enrolled and randomly assigned during the vaccination visit by means of 1:1 stratified block randomisation, with random block sizes of 6–12 by means of an offline mobile application built for the purpose. The participants received a single 25 μg/0·5 mL dose of tetanus-toxoid conjugated Vi polysaccharide typhoid vaccine (Typbar TCV; Bharat Biotech International, India) or meningococcal capsular group A conjugate vaccine (MenA; MenAfriVac, Serum Institute of India, Pune, India). In addition, from a subgroup of consenting participants, 1500 were randomly selected (1000 in the TCV group and 500 in the MenA group) for the immunogenicity component of the study. Only staff administering the vaccine were aware of which vaccine was administered and these staff were not involved in the follow-up of participants.
Procedures
Blood cultures were obtained from participants presenting to the trial clinics (Patan Hospital, Lalitpur or 18 community-based clinics) with reported fever for at least 2 full days or a current temperature of at least 38°C. Blood cultures were done at Patan Hospital following the standard operating procedures. Additional participants who attended health facilities other than the trial clinics were identified from routine tri-monthly phone calls to participants. Medical records of these participants were reviewed for blood culture-confirmed diagnosis. Only participants with confirmed blood culture-positive typhoid fever are included in the primary efficacy analysis.
Following vaccination, parents and guardians were asked to inform the study doctors about any adverse events. All adverse events, occurring within the first 7 days post-vaccination, were recorded via phone call and have been described and reported previously. Serious adverse events in the 2-year study period were identified from participants visiting the study clinics, surveillance at Patan Hospital, and via tri-monthly phone calls. Serious adverse events were followed up and recorded by study doctors. Any serious adverse events were recorded on a tri-monthly basis.
Blood sample collection was planned on day 0, day 28, 18 months, and 24 months post-vaccination. Blood samples were temporarily stored at 2–8°C, processed within 6 h of blood draw and stored at −20°C. We were able to complete 18 months sample collection, with 381 participants bled at 24 months at the unmasking visit. Further sample collection at 24 months is pending as the study activities were halted owing to the COVID-19 pandemic.
Anti-Vi IgG and IgA titres at day 0, day 28, and 18 months were measured in plasma samples at the Oxford Vaccine Group Laboratory, University of Oxford. The overall day 0 and day 28 anti-Vi IgG results have been previously reported.
13
Anti-Vi IgG titres were measured by means of a commercial ELISA kit (VaccZyme, The Binding Site, Birmingham, UK) according to the manufacturer guidelines. Anti-Vi IgA titres were assessed with Vi-coated plates and reagents supplied by The Binding Site by means of a protocol adapted from the commercial VaccZyme assay.
Outcomes
The primary outcome was incidence of blood culture-confirmed typhoid fever. The secondary outcomes were incidence of blood culture-confirmed typhoid fever in participants with at least 3 full days of fever; incidence of blood culture-confirmed paratyphoid fever; numbers of clinically suspected typhoid fever; numbers and duration of inpatient or outpatient fever; and length of hospital admission. The exploratory outcomes were absenteeism from school or work as the result of illnesses; and all-cause mortality. All exploratory outcomes were prespecified. Immunogenicity of TCV at 1 month post-vaccination and persistence of antibodies induced by TCV at 18 and 24 months were explored.
Statistical analysis
A target sample size of 20 000 children was required in the trial, and under the assumptions of the power calculation approximately 36 cases of typhoid fever in the control group and nine cases in the TCV group were expected to be observed (see appendix p 2). The primary outcome, the incidence of blood culture-confirmed typhoid fever, was calculated as the number of cases divided by the total number of person-years of follow-up. Only cases occurring more than 14 days after vaccination were included in the analyses. The vaccine efficacy was calculated as (1 − IRR) × 100%, where IRR is the incidence rate ratio (TCV:MenA), estimated by means of a Poisson regression model. Prespecified subgroup analyses of the primary outcome were done by means of Poisson models with interaction effects.
The cumulative incidence of typhoid was summarised by means of the Kaplan-Meier method. For any participant with more than one blood culture-confirmed typhoid fever, only the first event was used in the Kaplan-Meier analysis, but all events were included in incidence estimates.
["source=thelancet"]