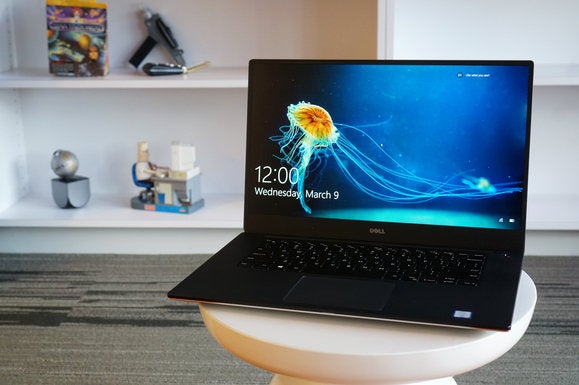 It doesn't take a genius to realize that when you hit pay dirt, you might do so again if you keep digging in the same area. That's the tack Dell takes with its redesigned XPS 15 laptop: It's easily summed up as a bigger, more powerful version of the super-popular XPS 13.
Bigger isn't always better, of course, but in the case of the XPS 15, it worked out pretty well. Its body has the same aluminum top and bottom. The familiar carbon-fiber keyboard deck is there, too. Also like the XPS 13, this XPS15 features an ultra-thin "InfinityEdge" bezel around its 15.6-inch screen.
The model I reviewed is mid-range. That means a 1920×1080 resolution non-touchscreen, though a 4K Ultra HD screen with touch is available. Regardless of screen type, you get that 5.5mm-skinny bezel, and it makes for an impressive presentation—for comparison, HP's Spectre X360 15T has a 15mm-wide bezel. But oddly, the XPS 15's bezel didn't wow me the same way the original XPS 13's did, even though both bezels are basically the same size.
The narrow bezel looks great except from this angle
Like its sibling, that thin bezel results in the same awkward camera placement. Instead of residing at the top of the screen, the XPS 15's camera sits in the lower lefthand side. That means people who do a lot of typing during video calls had mind their cuticles.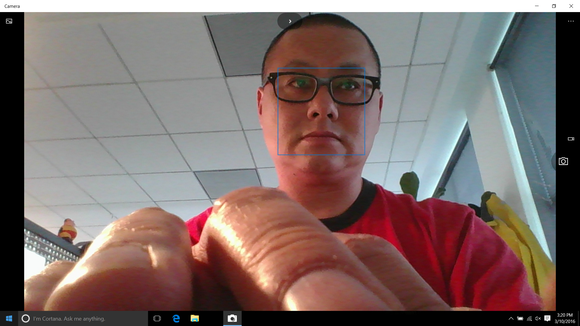 The slender bezel also means Dell had to do some gymnastics to backlight the screen properly. This isn't something you would notice under normal circumstances, especially because it's an IPS panel and has good off-axis viewing angles. However, when I placed the XPS 15, HP Spectre X360 15T, and Samsung's Book 9 Pro in a dark room and cranked up the screen brightness of each, the XPS 15 showed more backlight bleed. I'd rate the Spectre X360 15T first in quality, with the Samsung Book 9 second.
The image quality on the XPS 15 is fine, but it's worth noting that the anti-reflective screen on our test unit will, basically by definition, look duller than the glossy displays on the HP and Samsung. What you give up in eye-catching pizzazz, though, you get back in greatly reduced glare..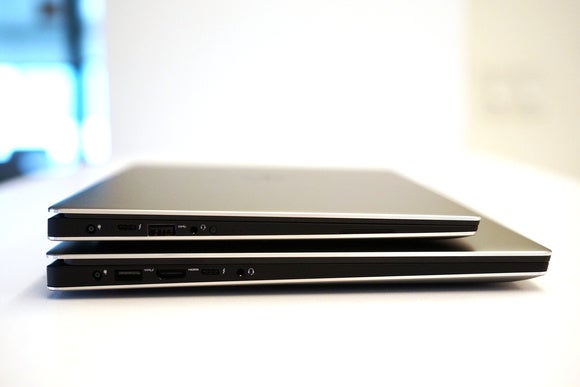 Ports: a note about the USB-C
For ports, you get an SD card reader, a USB 3.0 Type A port, and a Kensington lock on the left side. On the right, you'll find a full-sized HDMI and second USB 3.0 Type A port, combination analog audio jack, and a USB 3.1 Gen 2 10Gbps Type C port with Thunderbolt 3 support. Nothing wrong with this selection, but I'd like to put in a good word for those of us with older hard drives that require dual Type A plugs to get enough power. On the XPS 15, such an accessory wouldn't work without an optional adapter cable.
One other thing worth noting is that the XPS 15 can't be charged through its USB Type C port—unlike its smaller sibling, which will charge through either the standard Dell barrel charger or the USB Type C port. That's because the XPS 15's power brick is rated at 130 watts (well beyond the USB Power Delivery spec today), so anyone hoping for that universal USB-C charging world won't get it just yet.
Update: After initially testing the XPS 15 with several USB Type C power bricks, I assumed there was no support for for charging through the laptop's USB Type C port using USB Power Delivery. It turns out I was wrong. At least about Dell wiring the port that way. The XPS 15's USB Type C port does indeed support charging but it appears to be pretty picky about what it supports. The unit would not charge with Innergie's PowerGear USB-C nor with a 45 watt brick for the HP Spectre X2. It also understandably failed to charge (when on) with two other lower power USB Type C bricks for a Samsung Windows convertible and Google's Pixel C brick. The one brick that did run the XPS 15 was the new Google Pixel and its 60 watt power brick.
One thing to note: The XPS 15 charger is actually a 130 watt power brick and when under a heavy graphics load, would suck down 90 watts. That means when using a lower power brick like the Google Pixel's, it will actually discharge even when plugged in.
Still, it's nifty Dell also wired its XPS 15 to charger over both plugs but the success rate with Power Delivery over USB Type C really makes me thinks it's a mess.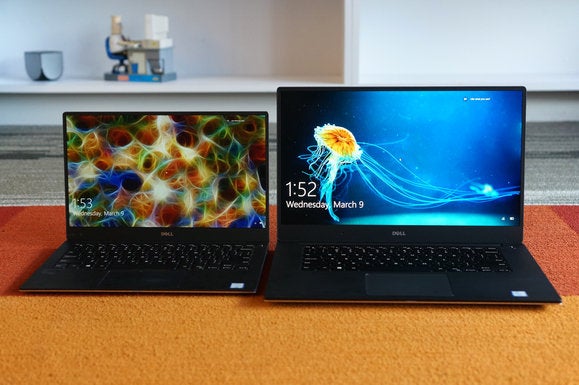 Keyboard and trackpad
I liked the original XPS 13's trackpad, so I'm happy to report that the XPS 15's appears to be made the same way—with the same piano hinge, and the same lightly rubberized coating—but taller by about an inch.
Strangely, though, Dell didn't take advantage of the increased real estate to make the keyboard larger. One of my main complaints about the XPS 13 is its keyboard size—it's just a skootch too small. That's the scientific measurement for something that isn't a deal-breaker, but enough to notice. The travel is good, and unless you move to a laptop with a larger keyboard, it won't bug you.
Configuration
Just like mom told you, it's what's inside that counts—and the XPS 15's specs are mostly a win.
The CPU is a Skylake quad-core Core i7-6700HQ, which is a 45-watt chip that will run from 2.6GHz to 3.5GHz on some workloads. It and the XPS 15's GPU are quite fast when you consider the size of the laptop, but here's the bad news: The CPU's soldered down, like all Skylake mobile laptop parts, and so is the machine's Nvidia GeForce GTX 960M GPU.
Here's the better news: The XPS 15 comes with a pair of user-replaceable DDR4/2133 SO-DIMMs modules, and an M.2 slot with BIOS support for PCIe devices. That means you could easily drop in larger RAM modules or upgrade the M.2 drive to something faster or bigger.
Dell actually offers two battery options for the XPS 15. Our review unit features the smaller standard 56 watt-hour cell, but you can also get a much larger 84 watt-hour cell in some configurations. Generally, the bigger battery comes in models with the M.2 SSD, while the lower-end hard drive configurations get the smaller battery.
Our particular configuration straddles the fence, though. It uses an M.2 SSD and has the room to fit the larger battery, but it comes with the smaller battery. I wouldn't mind giving up that battery capacity (which spills over into the hard drive caddy) if the XPS 15 had the user option to install a second hard drive or SSD in the bay. Dell, however, doesn't include the actual ribbon cable that connects to a drive, so phooey. I suspect you could get the ribbon cable as a replacement part, but it would be a nice inclusion for upgraders.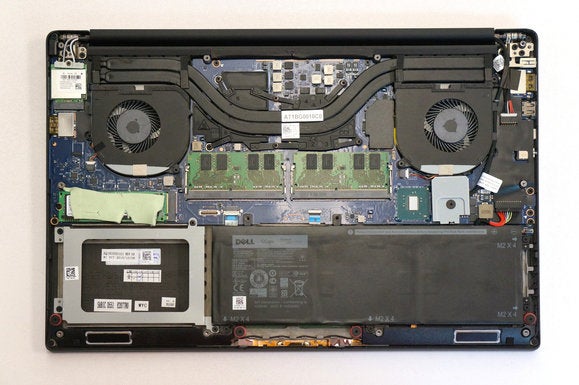 Getting inside this laptop is super-easy. You just have to back out a few Torx screws around the perimeter and two Phillips-head screws in the center.
CPU performance
The vast majority of people who pay the weight and price penalty for a 15.6-inch laptop want performance—and with the Dell XPS 15, you get it.
First up is Cinebench R15, which is a benchmark based on Maxon's 3D rendering engine. It's a pure CPU benchmark and the XPS 15 leads the pack. I picked out a set of dual-core ultrabooks to compare it to, as well as the Samsung and HP's dual-core 15-inch Spectre.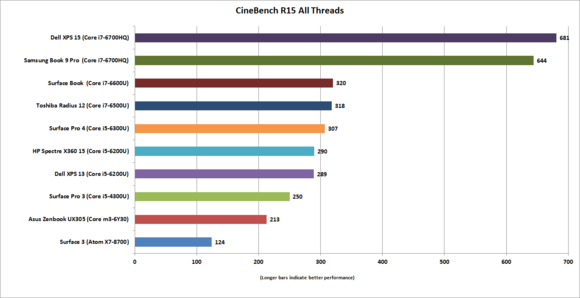 Most of these laptops illustrate just what you get from a dual-core CPU versus a quad-core CPU. In a heavy-duty 3D rendering test, the quad-core shows that the price you pay for that level of processing power is worth every extra dollar gone from your wallet (and additional ounce on your back).
If you're wondering why the XPS 15 is faster than the Samsung Book 9 Pro—despite having the same chip—it's because the XPS 15 runs its CPU at a slightly higher clock speed under load.
Handbrake performance
That CPU superiority in Cinebench also shows in our Handbrake test, where we use the free program to transcode a 30GB MKV file into an Android tablet–friendly MP4. The performance in Handbrake should give a good idea of the XPS 15's video editing performance in general. Anyone doing video editing or 3D rendering with a laptop will probably be rolling larger laptops like these quad-cores.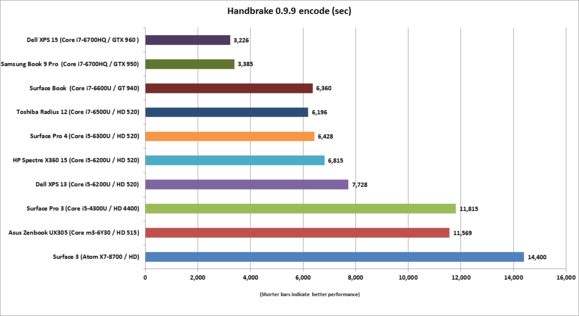 Office drone performance
If you just want to know if it's worth having that quad-core for office-drone work, both the long and short answer are No.
As you can see from our PCMark 8 Work Conventional test, which simulates everyday office tasks, this Dell is ahead of the pack—but not in any exciting way. For the most part, you'll never feel the difference between a quad-core Core i7 and a low-power Core m in office tasks. If you really only do just office work, it makes more sense to buy a different laptop.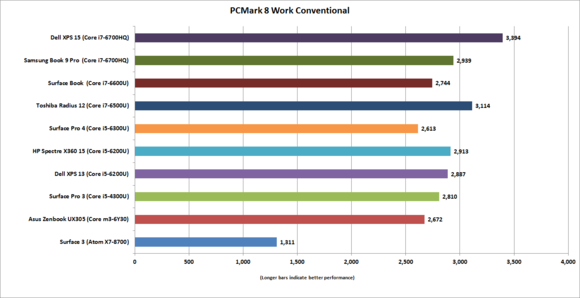 Gaming performance
Besides the quad-core CPU, the other performance highlight of the XPS 15 is its GeForce GTX 960M chip. On paper, it's very similar to the Samsung Book 9 Pro's GeForce GTX 950M. Both have the same 128-bit memory bus, 80GBps of memory bandwidth, 640 shader cores, and a memory speed of 1,253MHz. The key difference between the two is clock speed: The Samsung's GPU clock is set to 915MHz with a boost speed of 928MHz. The Dell's GPU clock is rated at 1,033 with a boost speed of 1,098MHz.
That's the reported specifications, though. Laptop makers can tune the clock speeds to match the cooling capability, or they can choose to minimize fan noise by sacrificing speed. Running a Furmark stress test on both laptops reveals that Dell likes to push performance to the wall for as long as it can. The XPS 15 actually starts a little above its top boost speed of 1,098MHz, while the Book 9 Pro starts underclocke d at 750MHz.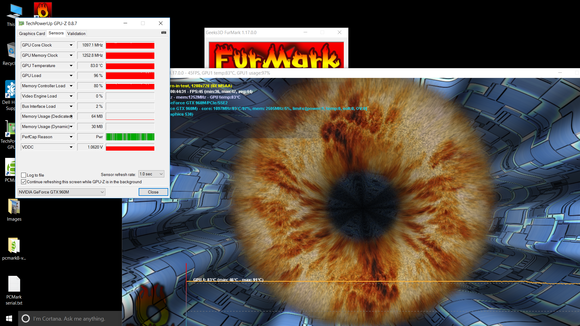 After five minutes of this torture test, the XPS 15 held strong with clock speeds at 1,085MHz range. After 15 minutes, it dropped down to a still very respectable 1,019MHz. As for the Samsung—I'll get into its performance when I write that review, but for now, let's just say its GPU clocks plummet off a cliff as time goes on. The Book 9 Pro's fans are definitely quieter, though.
Translated into gaming performance, I'd say the XPS 15 will play a lot of games set to Reasonable. No, that's not an official game setting, but it should be for people who don't have high-end graphics cards. The short of it is, the XPS 15's 960M is a decent entry-level gaming GPU.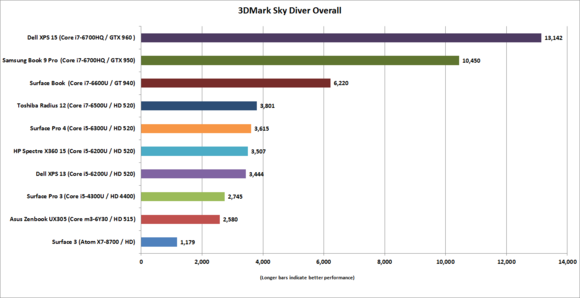 Battery life
For our battery rundown test, we play a 4K Ultra HD video file using Windows 10's built-in media player. We set the screen brightness at 250 to 260 nits, which is good for watching a movie in office lighting. Considering its higher-wattage CPU and larger screen, the XPS 15 does reasonably well with just over five hours of run time.
This particular model is helped by its lack of a power-eating touchscreen and its modest, 1920×1080 display. Although it's not a true 1:1 comparison, I'd bet Samsung Book 9 Pro's briefer runtime comes from its high-resolution 4K touchscreen.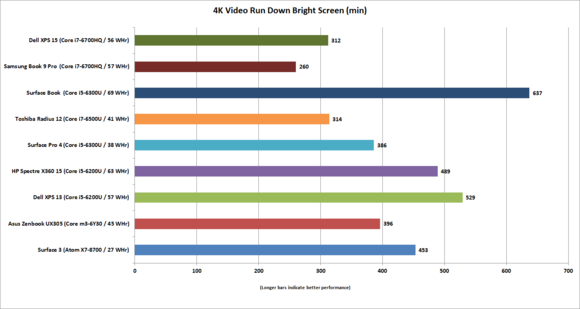 For this particular model, you can mitigate the shorter battery life with Dell's optional battery pack, which will let you run and charge the laptop from it. In higher-end configurations with the 84 watt-hour battery, I'd expect to squeeze out at least another few hours out o.
It's small but…
For its class, the redesigned XPS 15 is fairly compact and blisteringly fast. However, it's not as revolutionary as the XPS 13's overhaul. With that laptop, Dell basically crammed a 13-inch screen into a body that usually fit an 11-inch screen. Compared to the MacBook Air 13, for example, the XPS 13's extremely small footprint was game-changing.
The XPS 15 certainly has the smallest footprint of the 15.6-inch laptops we've seen, but it's not that much smaller. Here's a shot of the XPS 15 next to its contemporaries and an XPS 13. HP's Spectre X360 15T is almost comically wide, but that Samsung next to it is barely half an inch smaller in both directions.
The XPS 15 is very light considering what's inside of it, though. Our scale put it at 4 pounds and 2 ounces—just half an ounce lighter than the HP Spectre X360 15T. While the glass touchscreen of the HP adds to its weight, the Dell has to keep both a discrete GeForce GTX 960M and quad-core cool. So hats off to the XPS 15. The HP does have slightly less body flex when squeezed, but neither feels hollow.
The power bricks balance out the weight issue. The Dell's is big and heavy, bringing the total weight to 5 pounds and 7 ounces compared to the HP and its tiny brick, which total 4 pounds and 8 ounces.
Carrying the XPS 15 around in your hands is a pleasure, thanks to the rubber strips on the bottom. A lot of these metal-bodied laptops feel like they're just one slip away from disaster, but you'd have to try to drop the XPS 15 for destruction to happen.
["source-gsmarena"]