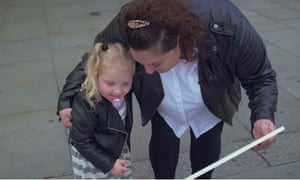 Children brought up by extended family members should not always have contact with their parents as it could harm their mental health, according to new research.
Interviews carried out for the charity Grandparents Plus examined the effects of parental contact on the increasing number of children being cared for by relatives other than their parents .
It is estimated that more than 180,000 children in the UK are being raised by a family member – often referred to as kinship caring. More than half of the children (51%) live with a grandparent, 23% with an older sibling, and the rest with other relatives.
In many cases the courts have ruled the parents are not fit to care for their children, often because they are involved in crime or have addiction issues.
Until now the presumption among social workers and the courts is that contact with parents is usually beneficial for such children. But the study found that in many cases this may not be true. The research, based on interviews with 53 young people, found that 42% of those who had contact with their mothers as teenagers were likely to have poor mental health as young adults, compared with 12% of those who had had no contact.
Although the sample size was small, Sarah Wellard, who conducted the interviews, said the findings suggested that difficult contact with mothers could have a continuing impact on young people into adulthood, something that had major implications for child welfare policy and the family courts system.
"Contact with parents can be very helpful for children but it's about the relationship with the child, how much support is offered, and whether it is supervised or not," Wellard said. "Those are all very important considerations. If you're a foster carer, you get help to make such contact as positive as possible for the children.
"What we saw in our study were quite a lot of cases where young people were having unsupervised contact with their parents and it was very distressing. The parents might be on drugs or they'd been drinking and they certainly weren't putting the children's needs first."
More than a quarter of kinship carers think contact with parents is harmful or very harmful to the child, according to the annual Grandparents Plus survey.
The 10% of carers who believe it is very harmful said they were concerned about the effects of the parents' evident reliance on drugs or alcohol, their use of inappropriate language, the threatened violence and emotional abuse, and their inability to turn up to contact meetings.
Almost two-thirds of children in kinship care (63%) have contact with their mother while 50% have contact with their father. Nearly half of all carers (45%) are obliged to observe a court order specifying that the children should have contact with parents.
The charity said its survey suggested that almost nine out of 10 kinship carers believe they are not receiving the support they need. "Children who would otherwise have gone into care are being increasingly placed with family and friends," said Lucy Peake, chief executive of Grandparents Plus.
"The research is showing that is generally the best place for those children in terms of outcomes. But the support doesn't follow the children."
Some two-thirds of carers (65%) say they need more emotional support while 62% claim they need more advice, information or practical support.
Nearly half of kinship carers (45%) had to give up work to look after the children. A similar proportion said they were not getting the financial support they needed.
"There is a lot of support for children in care, quite rightly, but you can contrast that with the group of children who are looked after by kinship carers and they have no entitlement to anything," Peake said. "These are an older group of carers who have health needs of their own; many have multiple caring responsibilities – a quarter might be caring for grandchildren but also their partner or another member of their family.
"Most of the carers give up work but are not entitled to an allowance like a fostering allowance. This means these children are growing up in poverty with all the pressure that that creates in families."
ONE FAMILY'S STORY
Rochelle, 53, cares for her two granddaughters, Ciara, four, and Lily, 12, as well as her 87-year-old mother who suffers from dementia.
The girls were placed with Rochelle under a special guardianship order (SGO) because her daughter was unable to care for them. Ciara sees her mother every eight weeks, and Lily has only sporadic contact.
"Lily's contact was set in a contact centre. Now I have the SGO, I no longer have social workers in my life – they've been signed off. It now states that I'm to manage the contact. But my daughter is very, very uncooperative and we don't get along. I no longer speak to her. She constantly belittles me to the children. It puts them in a very difficult position.
"If I were to have adopted these children they would have had no contact with their birth parents. In some cases that's better for the child. Maybe not so much for Lily because she's much older and can think with her feet. But in the case of Ciara it's better that she doesn't see her mum because she's easily mixed up. I'm expected to manage everything on my own because they are family. It's disgusting really."
source:-theguardian